Ayubowan – Welcome to the best beach town in Sri Lanka!
Hikkaduwa has been the most popular beach town in Sri Lanka since the 70´s, and still has a sense of its hippie-hangout past.😊
Today Hikkaduwa is a popular place for sun seekers, surfers, divers and backpackers. Loved for the loooong sandy beach and huge sea turtles. Hikkaduwa is a great place to spend some relaxing days to enjoy Sri Lankan beach life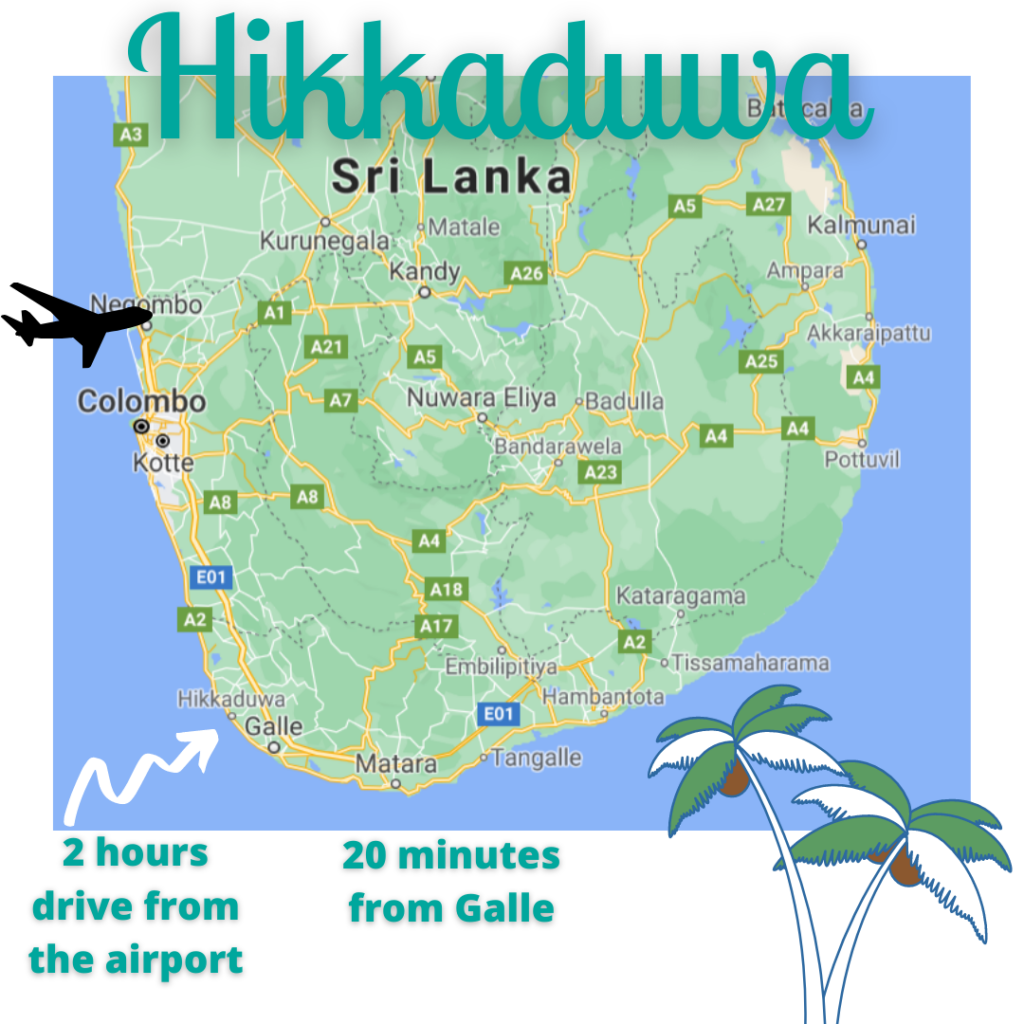 LOCATION:
Hikkaduwa is a beach town stretched along the Indian Ocean on the south-west coast of Sri Lanka. Located approximately 120 km south of Colombo (about two hours drive).
WHAT TO DO:
Chill at the beach
Surfing
Diving
Snorkelling
Swimming
Meet the Turtles
Nightlife & Restaurants
Day trips in the area
3 differnt parts of the beach in Hikkaduwa:

All the way to the north is Hikkaduwa Corals Beach, which is a good place for snorkelling and swimming. On the down-side this part of the beach is close to the road, and a lot of the hotels and restaurants in this area are in need of an upgrade.
Further south you have the Surfing Beach (Wewala – Narigama area). This is a lively area with restaurants, bars and a party scene in the high season. The best surfing spots and  selection of budget accommodation in this area.
In Thiranagama  -area,  is where At Ease Beach Hotel is located. This is the widest, quietest and most beautiful part of the beach in Hikkaduwa. Here you can spot local fishermen in the morning and enjoy a peaceful morning walk, if you'd like. There has been some developing in this area the past few years, so you will also find some luxury hotels and a few quality restaurants.
Check out the playlist; ❤️Hikkaduwa, for videos about your next favourite beach town in Sri Lanka: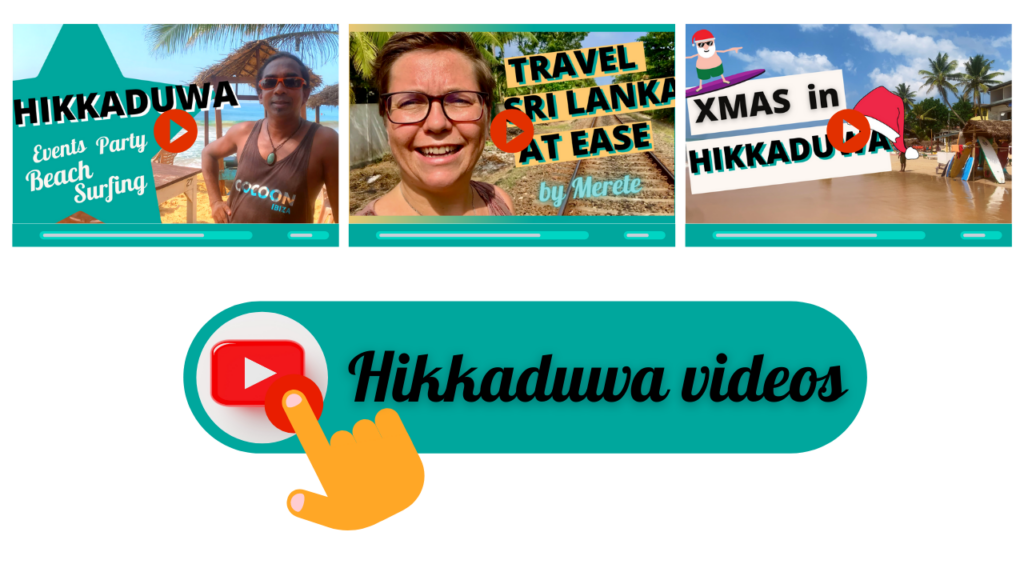 Planning to visit Hikkaduwa?
Check out the "Guide to Hikkaduwa" in Facebook, then you will find a group where locals share useful information about our 💙 beach-town. Upcoming events, restaurants and special deals and happenings. 😊 Join us!

The main sights in Hikkaduwa:
Hikkaduwa has a lot of sights and activities to offer, both on land and at sea. Famous for diving and snorkling already in the seventies- Our resident sea turtles, still attracts people from all over the world. Today, more people come for the waves, as Hikkaduwa is the best place to surf in south-western Sri Lanka.
Things to do in Hikkaduwa: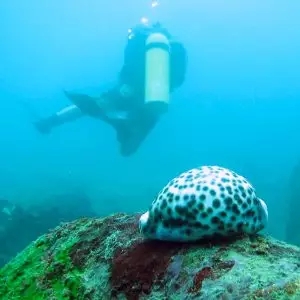 Snorkelling / diving
Just outside of the beach in Hikkaduwa there are several interesting wrecks and a unique marine life. You can explore the coral reef either by snorkelling or diving.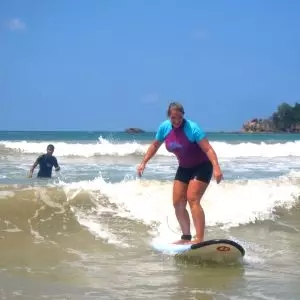 Surfing
You can find good and strong surf waves in Hikkaduwa all year around.
If you are a beginner we recommend that you take a few private surf lessons given by one of the talented local surfers. It's also possible to rent just a surf board if you feel like tackling the waves on your own.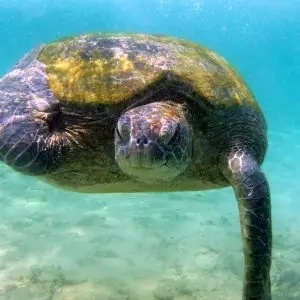 Meet the Sea Turtles
Do you want to see some huge turtels without putting on snorkelig gear and getting your hair wet? Right next to Hikka Tranz hotel there's a spot close to the shore where the big sea turtles are coming to eat sea grass.
Please show the sea turtles respect by not touching them!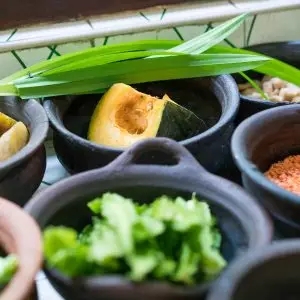 Curry class
Would you like to experience how locals make their rice and curry at home?
We can put you in contact with a local family where you can learn to make 10 different curries in two hours. Everything is done in the traditional way by making the coconut milk by hand and preparing the curry in clay pots.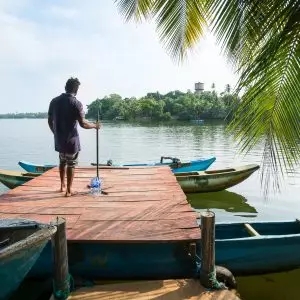 Mangroves
On the north and south side of Hikkaduwa you'll find lagoons which are surrounded by lush green mangroves. Here you can find a few restaurants with a quiet lagoon view, or join a lagoon tour in a traditional fishing kayak to see old temples and huge bats.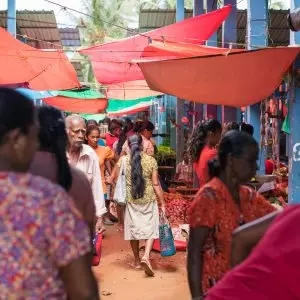 Local Sunday Market
If you want to take a closer look at the local life in Hikkaduwa you shouldn't miss the local Sunday market in Hikkaduwa town. Here you can try fruit and vegetables you've probably never seen before, and find everything from mobile phones to fresh spices.
If you want to experience the market at its liveliest you should come early in the morning.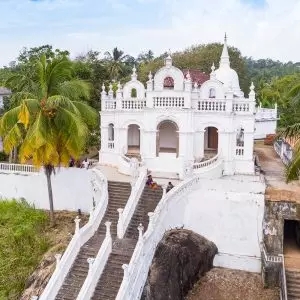 Buddhist Temples
Kumarakanda Vihara – A few kilometers south of Hikkaduwa town, up a few flight of stairs you will find a beautiful white buddhist temple which looks like a Dutch church. The 1800-century temple contains a several meter long reclining buddha and lots of old wall paintings.
Seenigama Devalaya – Located a few kilometres north of Hikkaduwa this temple is different from others because it is situated on an island 500 meter from the shore.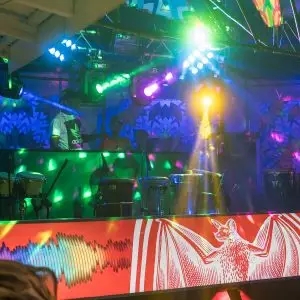 Party
Hikkaduwa has a vibrant night scene, especially in the weekends. Our favorite spots are:
For a great night out on Friday, Vibration fills up the dance floor with local drum players and DJ playing great remixes of popular music.
For dancing and chilling out with sand between your toes, try Chill Space.
For a calmer evening with a beer or some shisha on the beach, go to Top Secret.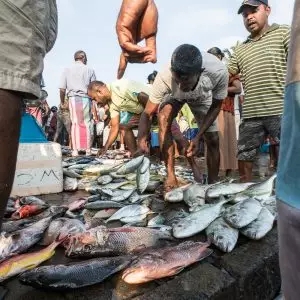 Fish Market
Every morning the fishermen are bringing their catch to the fish market at the southern end of Narigama Beach.
Here you can watch the fishermen unloading their traditional boats and the locals barging for the freshest fish.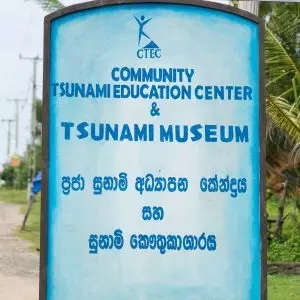 Tsunami Museum
A trip to the Tsunami Museum is a must if you wish to understand more about what happened on the December 26th 2004. Over 4000 people was killed by the tsunami only in the Galle area, and a lot of families lost both their homes and their livelihood.
In this museum you can learn more about why tsunamis occur, how it effected Hikkaduwa and what has happened in the years after.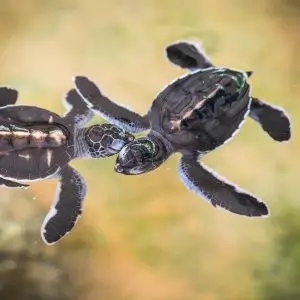 Turtle Hatchery
Sea Turtles in Sri Lanka are struggling to find a grow up safely because of tourism and locals stealing the turtle eggs. At the Sea Turtle Hatchery about 10 km north of Hikkaduwa Rohan has used the last 20 years trying to help the sea turtles. Here you can get up close and watch how the turtles develop from eggs, hatch to cute turtles and then grow to big sea turtles.
Best time to visit Hikkaduwa:
Hikkaduwa offers a warm and comfortable climate throughout the year 🌴🏖️☀️Average temperatures are 27-30 degrees year round!
The peak season in Hikkaduwa is from December to April. That is the time where the sea is best for surfing, diving and swimming.
However, you can visit Sri Lanka all of the year. The summer months of June, July and August usually have a lot of sun and nice weather. Since the sea is rough at this time, it is important to book a hotel with a swimming pool.
👉 read more about the weather in Sri Lanka HERE.
🌴Tropical climate:
Some rain will occur throughout the year. -it is a tropical climate here. 🌧️☀️ However the rain is comfortable, warm and usually lasts only a short time.
The monsoon rain differ from year to year. Lately we have seen that end of April to May and again September and October comes with rain. For the most this rain will come as sudden, heavy showers – mainly in the evenings and at nights. At daytime it is usually sunny and warm.
👉 Read more about the best time to visit Hikkaduwa here.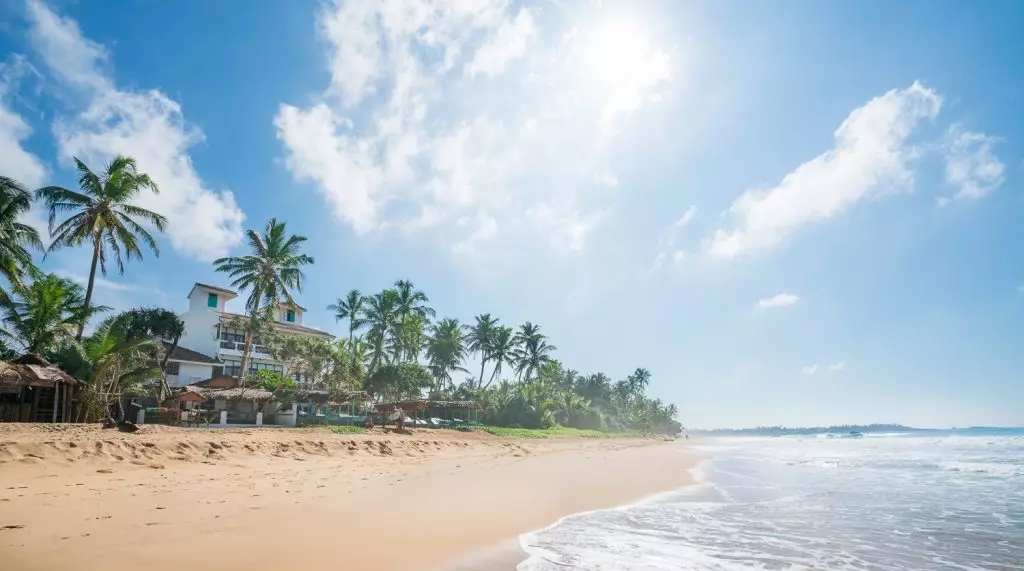 From May to September our Hotel´s beach is narrower, with water coming closer to our sun deck. From October it starts getting wider again, and usually the beach is widest around January – February🏖️.
As we have a swimming pool at our hotel, there is never a bad time to visit our hotel.