Many people ask us how to get a more active vacation in Sri Lanka. For the first time visitor to Sri Lanka, this island seems like more of a calm and relaxing place.
There are endless white sandy beaches. And many resorts oriented towards wellness and serenity along the coastline.
But, for the adventure seeker, there is much to do underneath this calmness.
Here we will share our best ideas for an active vacation in Sri Lanka.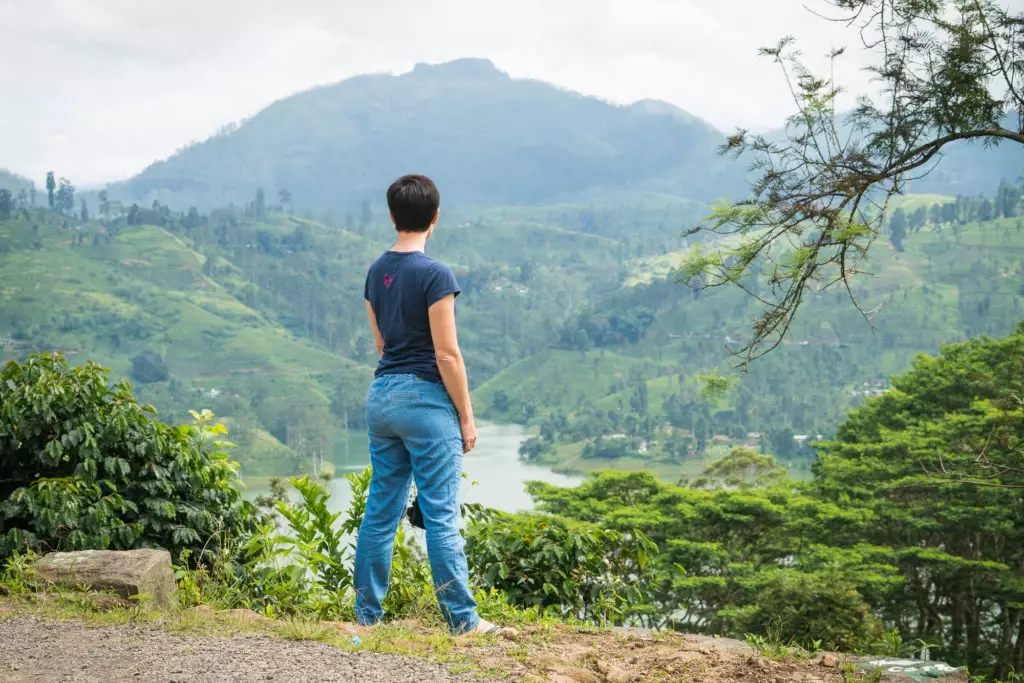 Sri Lanka in action: Active vacation ideas
Adventure and action are an inherent part of the tropics. There are mountains, forests, and ocean to explore. Sri Lanka is no exception to this. It has more variety within a small geographical area, something not seen in any other part of the world.
The variety is what makes this island a real paradise for the adrenaline seekers.
Here is a list of things you can do while you are in Sri Lanka:
Active vacation: Explore the Sinharaja rainforest
Sri Lanka is well known for its forests and wildlife. But nothing is as precious as the Sinharaja rainforest. This virgin forest holds many species that are endemic to Sinharaja itself. It has helped in increasing the biodiversity of the entire country. And the UNESCO has given the world heritage status to recognise its importance.
If you want to experience a tropical jungle, this is one of the best options you have.
Inside the forest, its dark, silent, and peaceful. The water sources are so pure that you can straightway drink the water from a stream. And there are several stunning waterfalls, in which you can swim and take stunning photos.
The most scenic part of the jungle is its southern border towards Galle and Matara districts. Deniyaya and the Hiniduma are the closest towns to the forest. This part of the wood is thick and green. And near the Lankagama, you have five different waterfalls. These are all stacked closer to one another.
From At Ease Beach Hotel in Hikkaduwa, it is a 2,5 hours drive to the entrance of Sinharaja.
👉 Just contact the Front Desk, if you want us to arrange a day tour for you.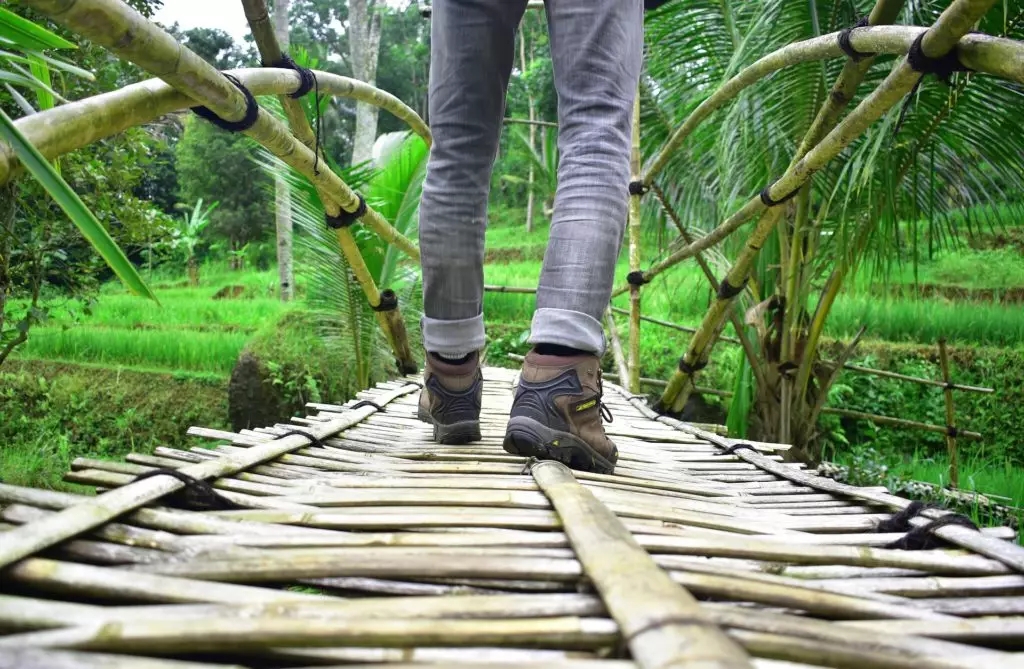 Active vacation: Rafting in Kitulgala
White water rafting is a popular group activity in many parts of the world. Not every river and stream has ideal conditions for rafting. Which makes it a unique event limited only to a few specific locations.
In Sri Lanka, Kitulgala is the best place for the adventure sport of rafting.
There are grade 2 and 3 rapids for a distance of about 5 km upstream from the Kitulgala town.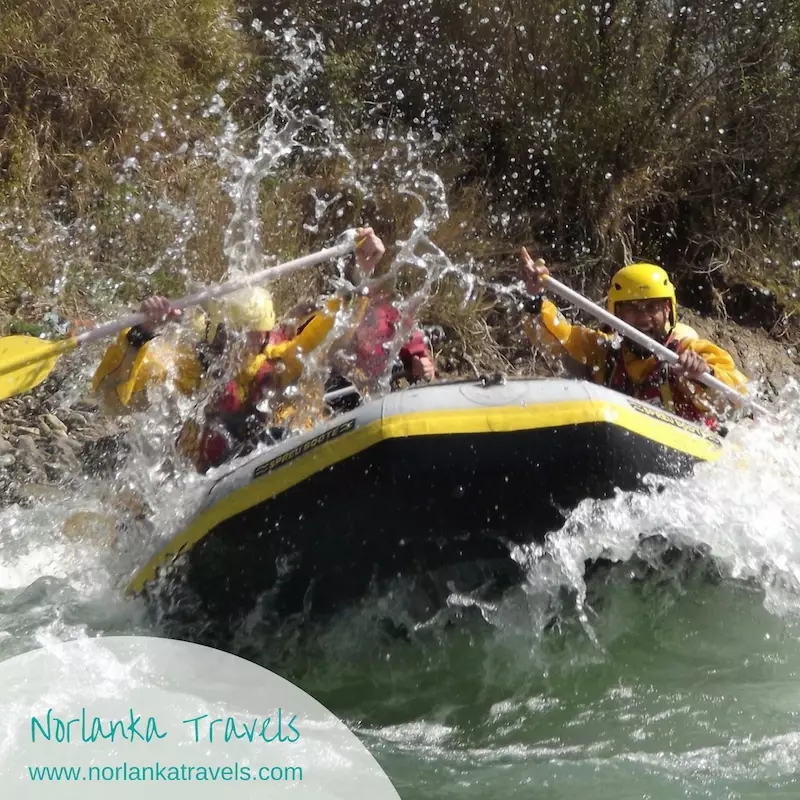 Our in house tour-company, Norlanka Travels, arrange day tours with Rafting.
From Hikkaduwa, there is a 3,5 hours drive to Kitulgala. We can also arrange it as a 2 days tour, spending the night in Kitulgala to explore the area more.
Sunrise at Adam's Peak (Sri Pada)
Adam's Peak or Sri Pada is one of the most sacred places in the country.
The legend has it that Lord Buddha visited this mountain peak during his third and final visit to Sri Lanka. On top of the mountain, Lord Buddha placed his footprint. Which is still worshipped by the Buddhists to this day. The Sinhalese word 'Sri Pada' means sacred foot on direct translation.
Adam's peak is in the middle of a dense rain forest. During the monsoon months, it is tough to travel through the trails leading to the top.
So the pilgrimage takes place only from December to May. During this period, thousands of people climb the mountain daily.
And they climb along a few different trails. These numbers can go very high during the weekends, full moon days, and the school vacations in December and April.
The most used is the Hatton route, which has the shortest distance, have plenty of rest areas and shops. The main goal is to get to the top of the peak before sunrise. The sun rising over the mountains in the distance is a stunning site that will last in your memory forever.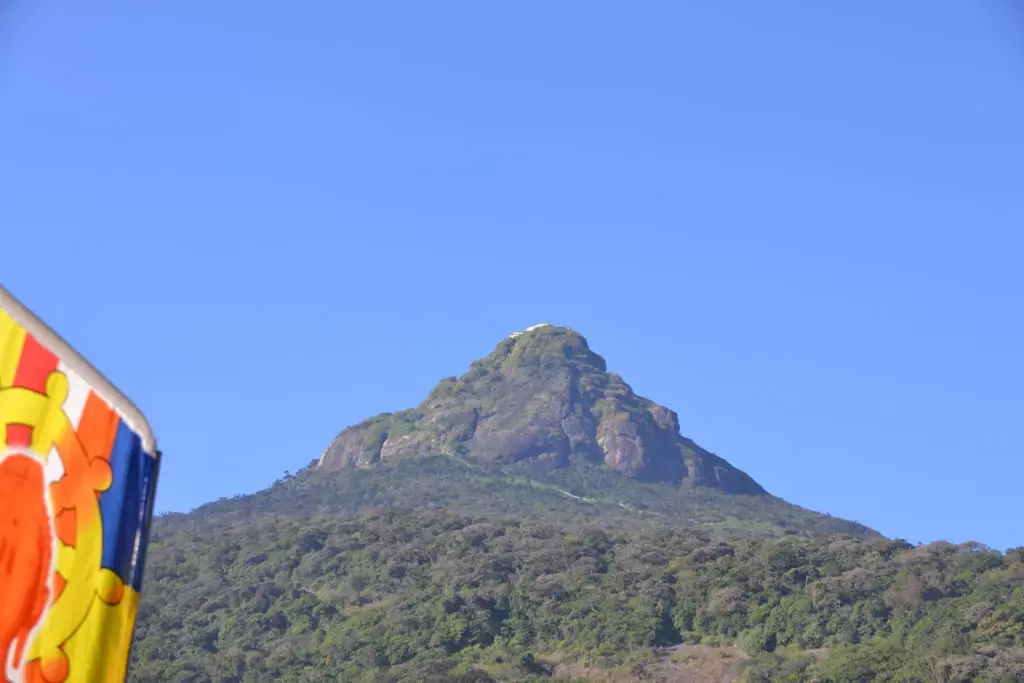 You can read more about Adam´s Peak in this blog post:
Active vacation: Hike in Ella
Ella is a paradise for backpackers. The best way to get here is by the scenic railroad from Kandy to Ella.
While you are in Ella, there are plenty of activities you can do. The hike up the Ella rock is one of the most famous ones of those. Also, you can try to catch the sunrise at Little Adam's Peak, which is a more comfortable hike compared to Ella rock. The third most popular hike is down to the Nine Arch Bridge. Where you will take those famous Instagram pictures.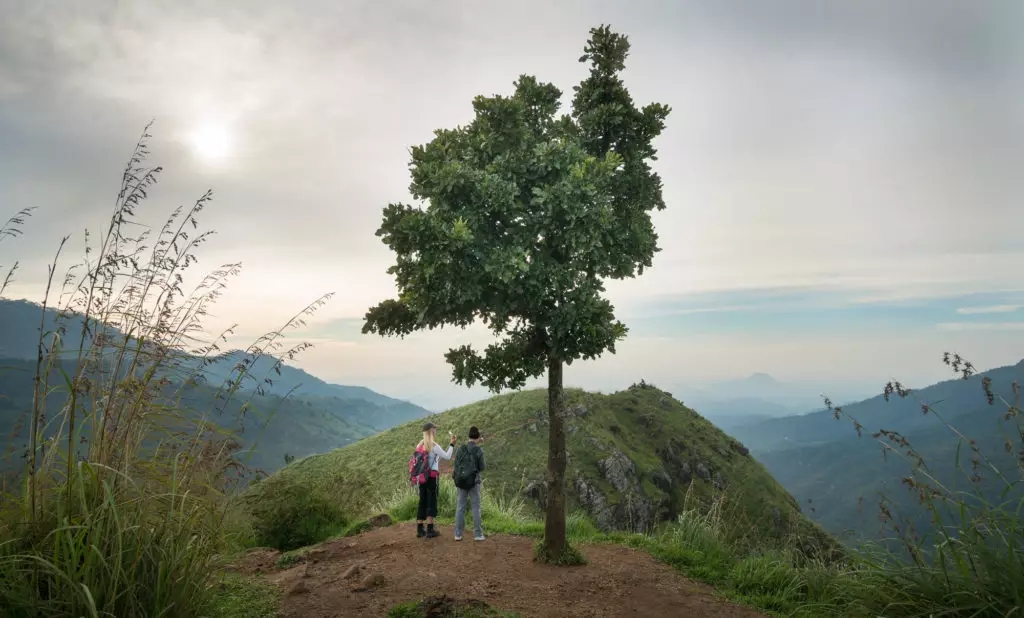 Trekking, Camping and Mountain Biking In Knuckles
Knuckles is Sri Lanka's last unspoiled nature front.
You will find the most remote villages around this area. There is still a great deal of untapped potential in and around knuckles.
For the experienced hikers, there is a trek that takes you to the heart of this wilderness.
The complete trail takes at least two nights to complete. Where you have to camp near two of the most scenic waterfalls in the country, the Dumbara Ella and the Duuwili Ella.
Knuckles is also a good place for mountain biking.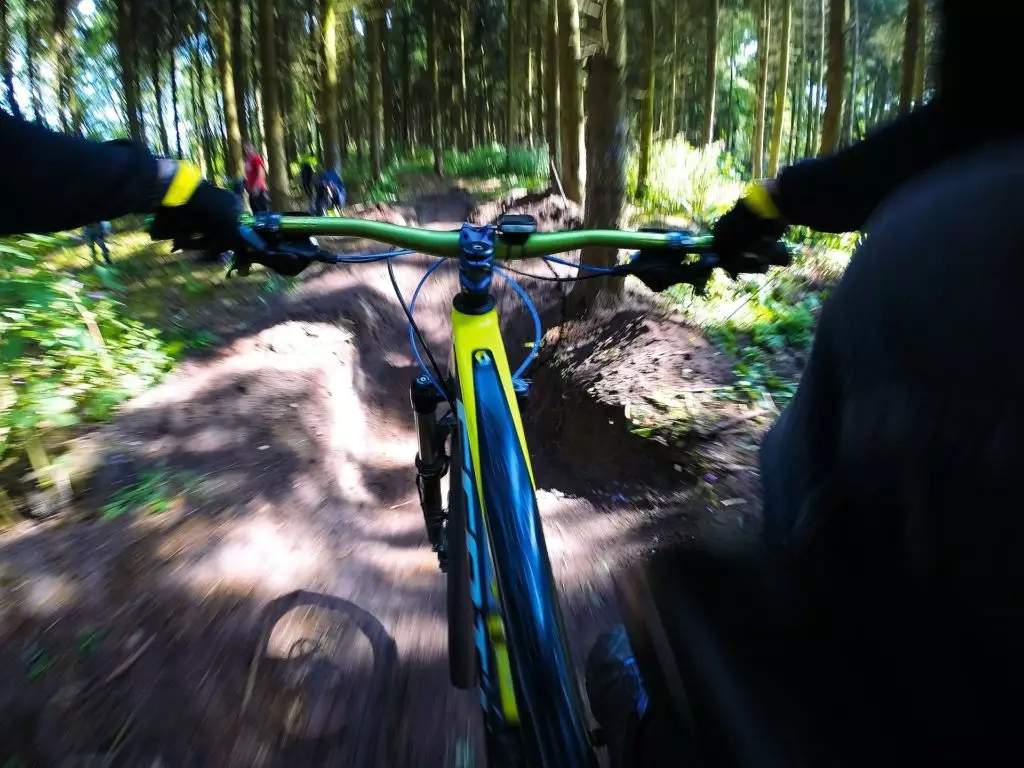 Surfing
If you travel to Sri Lanka during the European winter (November to April) then 🏄‍♀️ Hikkaduwa and the south coast is the place to be!
If you come during the European summer (June to September), then head over to the East Coast & 🏄‍♀️ Arugam Bay!
Arugam Bay is famous for its surfing spots, and the laid back "backpacker-vibe". There are many homestays and small guesthouses along the coast and on either side of the main road. Camping spots are located further south in the Panama beach. And along the main road, there are many restaurants offering all sorts of cuisines.
Snorkeling or diving in Hikkaduwa
Hikkaduwa has more than surfing to offer! Tourists, backpackers and hippies have been in love with Hikkaduwa for half a decade 💕 They loved the sleepy nature of this small town, and were especially attracted by the amazing coral reef and stunning beach.
The coral reef is the heart of Hikkaduwa. As it protects the coast and provides a safe swimmable area throughout the year.
Nowadays, Hikkaduwa is famous for its friendly turtles.
Each day several giant turtles come close to the shore to feed on the seaweed provided by the visitors. You can snorkel next to them as well.
To learn more about exactly where to see the turtles in Hikkaduwa, read this post as well
👇👇👇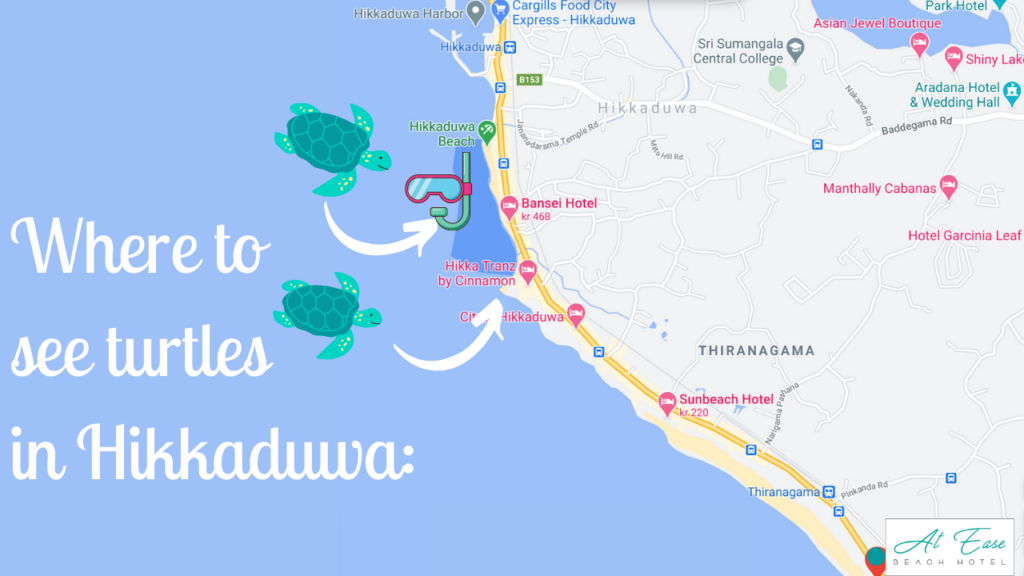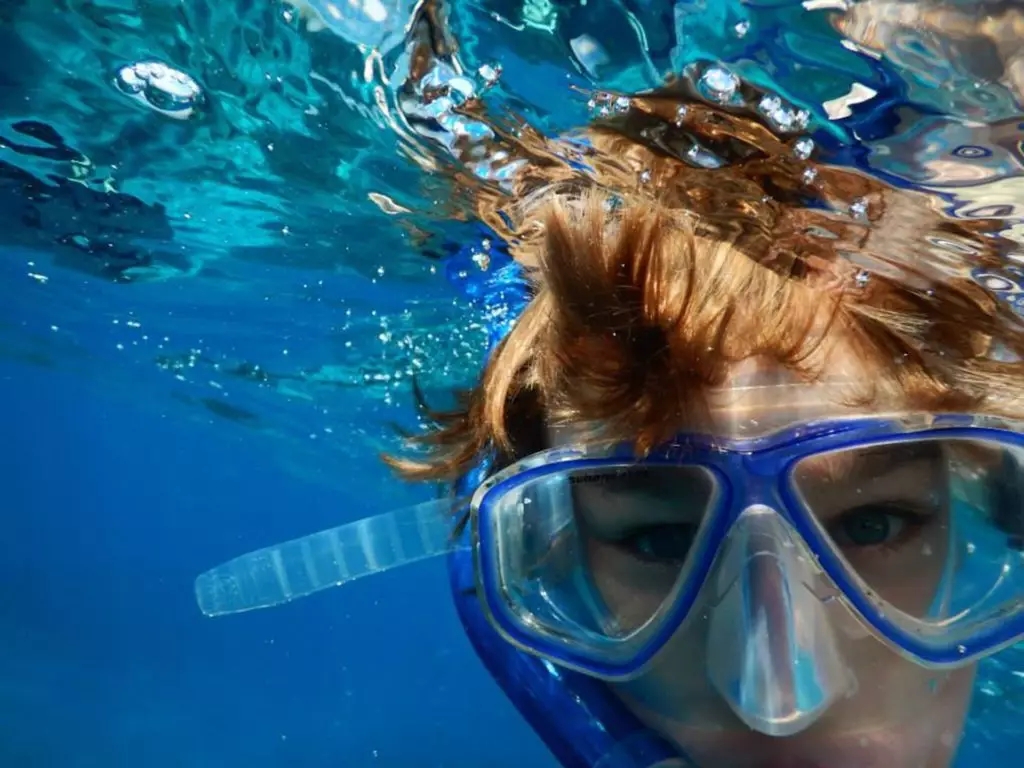 Hikkaduwa also has a well-developed nightlife. There is a set of good restaurants and hotels which are build right next to the beach. You can start the day by doing yoga on the beach. Followed by a nice dip in the ocean, a sunbath and a relaxing walk along the coast.
Traveling around Sri Lanka
Sri Lanka is not a vast country. But there is a 22 million population (same as massive Australia). Which means that it is quite densely populated. So there is an extensive network of roads connecting the entire island. A network of railroads and expressways supports these roads.
The downside of this density is that you will find most of the public transport modes crowded. And the main cities to small towns equally busy with traffic.
Tailor-made tours
We can make a tailor-made tour for you to explore more of Sri Lanka. You may want to spend more time on cultural sites, or safaris or relax by the beach. Or there can be some specific location you need to include at whatever cost.
At Ease Beach Hotel in Hikkaduwa is the perfect base for your vacation in Sri Lanka.
From here it easy to arrange all your travel needs.
We can help you to hire drivers to take to any part of the island. These drivers are professionals. They also have good knowledge of the history and the other details of the attractions. They will act as guides for your travel, so you do not have to hire a separate guide.
Summery
In conclusion, Sri Lanka has a lot of adventure activities for those who seek action. Camping in Knuckles to water rafting in kithulgala, these will keep you entertained. Hire a driver or ask us to arrange day trips to some of these locations.
It will make your travel even more enjoyable.