Meretes Top Picks in Hikkaduwa:
Of course, you are welcome to eat all you meals here at our sea facing restaurant at our Hotel.
💫 However, I do often recommend to try out the variety of food offered by more that 150 restaurants in the Hikkaudwa-area.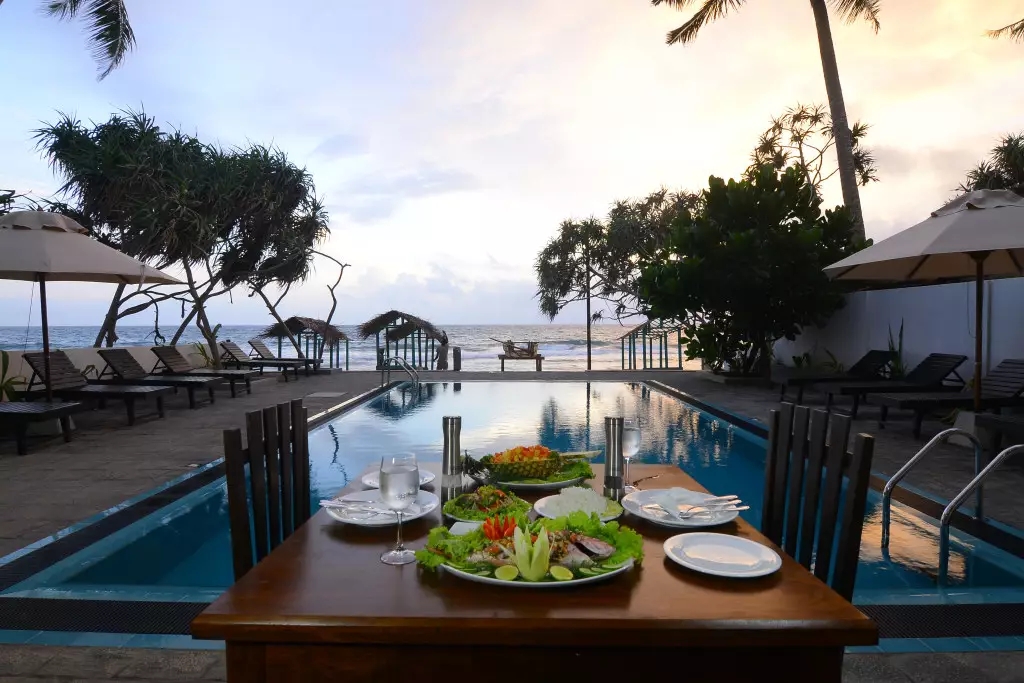 This is my Top Picks for Best Restaurants in Hikkaduwa:
LOCAL FOOD:
Home Grown Rice & Curry: Delicious👍
Canal View
Rotti shops: (you will find 10+ different one´s – all is good!
Southern Cool Spot (Affordable local food for takeaway, very basic facilities).
RESTAURANTS CLOSE TO US:
Riff (Rooftop Restaurant) : Sushi, Amazing sea food and best cocktails!
Thambili Cafe: 10 metres to the south of At Ease. A basic place, but great vibe.
🎶🍺LIVELY BEACH RESTAURANTS:
BEST SEA FOOD IN HIKKADUWA:
Neelas Beach (beautiful setting on the beach)
JLH (daily fresh lobster and more)
Tigri (small, charmy & amazing view of the sun set.
Riff (Higher prices – Rooftop restaurant with delicious sushi++)
WESTERN FOOD:
Spaghetti & Co (for best pizza & pasta)
Hello Burger (for the best burger in Hikkaduwa.
MM´s Crepes
☕️COFFE AND BREAKFAST:
Sunny Side up
Salty Swamis
NICE FOR LUNCH:
Salty Swamis (open until 4 PM only)
Mandela Beach
Friends Indeed
BRITISH – SRI LANKAN
Asian Jewel (Delicious Food – 10 minutes tuktuk from Hikkaduwa)
3 restaurants that are open year round:
Top Secret & Mambos:
Find the best restaurants in Hikkaduwa on the map: