As World Environment Day approaches, it is imperative to highlight Hikkaduwa, Sri Lanka's stunning seaside paradise. The city is known for its gorgeous beach and enchanting beauty and has countless natural treasures that require our care and protection. We can celebrate this day by joining together and implementing sustainable measures to protect the sea turtles, coral reefs, and dunes that give Hikkaduwa its distinctive beauty and reputation as a haven for marine life.

In commemoration of World Environment Day, let us go deeper into these crucial elements and consider how we may all work together to ensure Hikkaduwa's future.
Safeguarding the beach:
The beaches of Hikkaduwa are not just popular tourist destinations, but also vitally important ecosystems. It is crucial to encourage responsible tourism activities to preserve these rare habitats. Beaches have a delicate natural equilibrium that needs protection; hence, tourists must be educated on the importance of not fouling them. However, communities and volunteer organizations do their part by organizing regular clean-up drives to keep beaches clean and safe for people as well as marine life.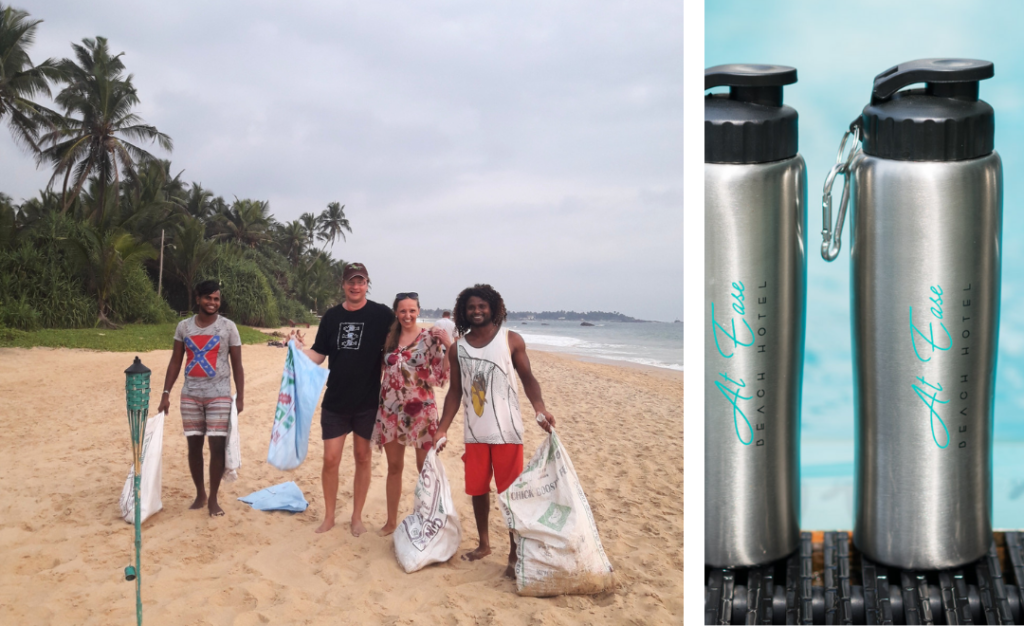 Protecting coral reefs:
The incredible diversity of marine life in the coral reefs off the coast of Hikkaduwa makes them a popular destination for snorkelers and divers. However, global warming, pollution, and illegal fishing are a massive threat to these delicate ecosystems. In order to preserve coral reefs, it is essential to disseminate information about safe snorkeling and scuba diving practices. Above all, tourists and locals alike should avoid handling corals and other marine life, use reef-friendly sunscreen, and maintain a safe distance. In addition, international and local organizations can help in revitalizing Hikkaduwa's coral reefs by putting collaborative efforts.
Conservation of Turtles:
The Olive Ridley and Green Sea Turtles, both of which are at serious risk of extinction, use Hikkaduwa as a nesting place. Hence, protecting these incredible creatures will take a group effort. Consequently, local organizations and individuals work tirelessly to safeguard nesting places, ensuring that turtles can lay their eggs in a safe setting so that turtles can feel safe laying their eggs at particular sites.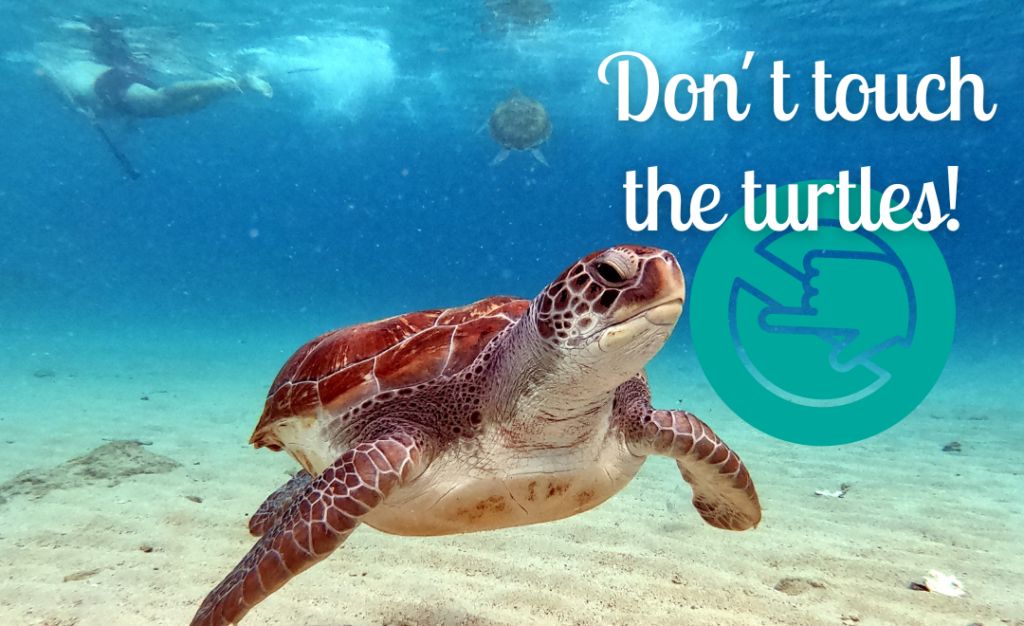 👉 You can read more about how YOU as a tourist, can see – and SUPPORT the turtle hatcheries in Hikkadauwa HERE.
Reduce the use of plastic:
Plastic trash is a huge environmental hazard that devastates marine life and the visual appeal of Hikkaduwa's beaches. Thus, reducing plastic use and increasing interest in sustainable alternatives are crucial to fixing the problem. Primarily, the commercial and hospitality sectors in the area must eliminate the use of plastic.
Plastic straws, bags, and food containers should be replaced with biodegradable or reusable options, along with the encouragement of garbage recycling and sorting is highly important. Moreover, informing both locals and visitors about the risks of plastic pollution can motivate people to shift their behavior and select more environmentally friendly options.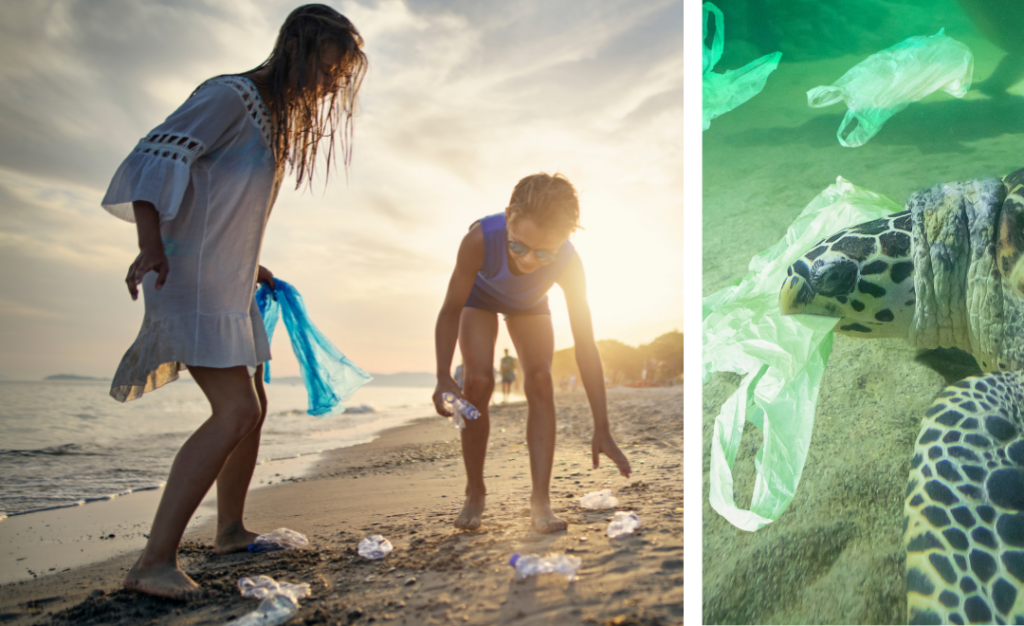 Eco-Friendly & Sustainability measures – At Ease Beach Hotel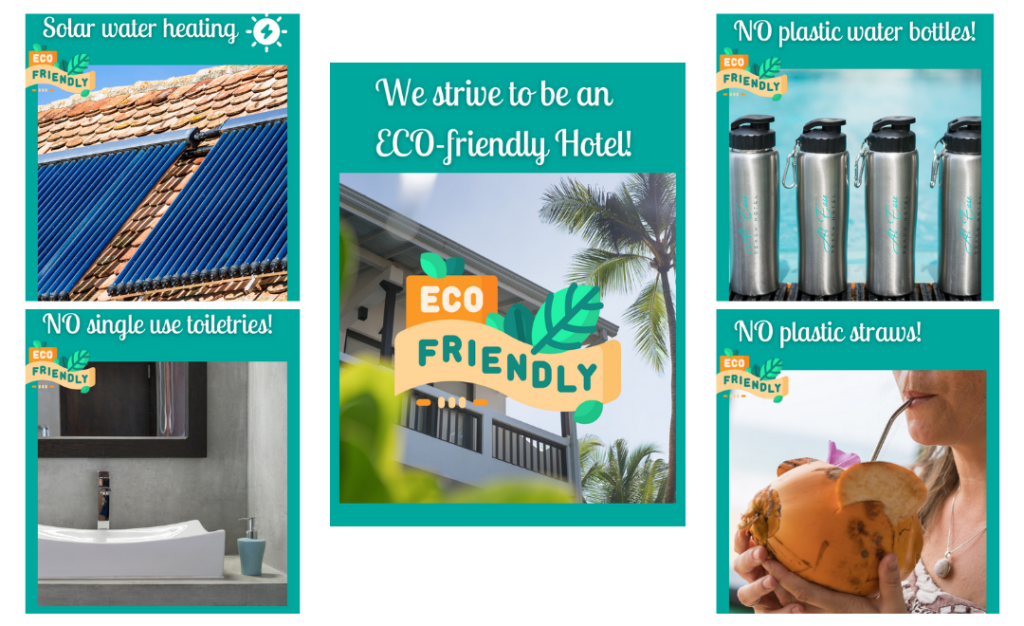 At 'At Ease Beach Hotel' in Hikkaduwa, we highly value and focus on environmental sustainability. We are actively contributing to the preservation of the beach, coral reefs, and turtles by reducing plastic usage. Here's how we work towards these goals:
Plastic-Free Initiatives:  We made significant efforts to eliminate plastic use at our hotel. The sale of single-use plastic items like bottles, straws, and hygiene products has been discontinued. We do not sell plastic water bottles in our hotel restaurant and bar.  Instead, we offer sustainable options for guests' repeated use. We have water stations set up where guests can quickly replenish their water bottles with filtered water, and we strongly encourage the use of reusable water bottles.
Beach Clean Up: Throughout 2017 to 2021 we arranged regular beach clean-ups here in Thiranagama/Hikkaduwa South. Together with other hotel managers in the area, volunteers and hotel guests, we managed to keep a large area of the beach every week. This is something we will restart again in 2023. 
Environmentally Friendly Practices: Our hotel has adopted several ecologically friendly policies as regular operating procedures. Solar-powered water heating,  limiting water use, and always buying locally are all instances of this. Furthermore, we keep an eye on our sustainability efforts and make adjustments when we can to reduce our carbon footprint.
Information and Education: We believe that education is the most powerful tool for changing people's views and actions in favour of conservation. Through literature provided in rooms, posted signs, and staff conversations, we inform visitors of the need to take care of beaches, coral reefs, and sea turtles. Guest participation in conservation efforts like beach clean-ups and turtle monitoring programmes is greatly encouraged.
Collaboration with Regional Organizations: We work closely with local environmental groups such as Pearl Protectors as well as the coral planting project by the Foundation of Goodness in Hikkaduwa and contribute to their conservation efforts. Protecting coral reefs, sea turtles, and the environment are all causes that have the backing of the people of Hikkaduwa. 
Continuous Improvement: We commit to improving our environmental activities over time. Thus, we are constantly evaluating our operations, soliciting visitor feedback, and looking for new ways to reduce our environmental footprint. 
👉 Do you have any suggestions for us to implement? We would love to hear from you!
Let us remember that our actions today will determine the future of this precious coastal town. We can play a role in the long-term survival of Hikkaduwa's natural attractions by emphasizing beach preservation, coral conservation, turtle protection as well as plastic reduction. 
Everyone has a part to play in spreading awareness, supporting conservation efforts, and incorporating sustainable lifestyle choices into daily routines.
💚Therefore, let's work together to keep Hikkaduwa clean and beautiful!