How to apply for a visa to Sri Lanka?
In this blog article I will go through the complete procedure and help you to avoid the mistakes that can cause issues when you apply for visa to Sri Lanka.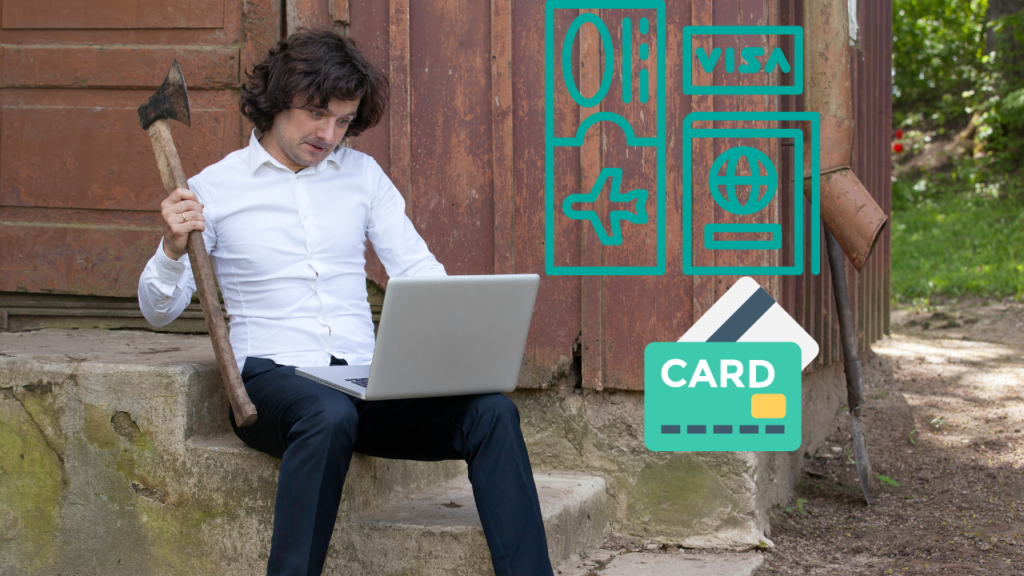 So before you crush your computer with an axe, let´s go through the basics:
To come to Sri Lanka as a tourist, you need to apply for an ETA (Travel Autorisation). With this you can travel and stay up to 30 days. 💸 The price for the ETA- visa to Sri Lanka is USD 35.
This is the (only) official application page: 👉http://www.eta.gov.lk/slvisa/
How to apply for the visa to Sri Lanka?
The video below will help you to CORRECTLY apply for tourist visa to Sri Lanka. I will go through the process, and show how to fill out the application online.
😱 Unfortunately, a lot of people face problems when applying for visa to Sri Lanka. The web page and especially the payment options are not working perfectly! You can also find it hard to fill out the visa application form correct, or you do not receive the e-mail confirmation.
In the video👇 you will find the solution to these problems:
Do you want more help to plan your holiday in Sri Lanka?
Check out all the information in the Travel At Ease-page, or send me a mail to travel@ateasehotel.com.
Electronic Travel Authorisation Online Application
The Sri Lankan government requires you obtain an Electronic Travel Authorisation or ETA. This can easily be obtain in advance through this government site: http://eta.gov.lk/slvisa/. The form does not take long to fill out, and you should receive a confirmation within two hours of completing the form. Sometimes it does take longer if it is a public holiday or the weekend. You can apply for ETA from 90 days until 24 hours until your arrival.
If you do not receive an email confirming your ETA, make sure you check your spam filter or trash. However, on the official government website you are able to check the status of your ETA, by clicking here. Printing out the confirmation or receipt is not necessary as it is connected to your passport.
There are websites offering to complete the ETA application for you. Some of these sites are not trustworthy, either they overcharge you or you do not receive your ETA at all. Therefore these sites are not recommended. You should not have to pay more than $ 35 dollars for your ETA if you apply in advance. Therefore make sure you fill out your application through the official government site : http://eta.gov.lk/slvisa/.
Another helpful tip is when on your flight to Sri Lanka ask the flight attendant for the immigration card. The flight often have these card on hand, but seldom actually distribute it to its passengers. If you fill out the card beforehand you will be able to save a lot of time when you arrive at immigrations. Depending on the airport, the line to the immigration check point can be long and especially during the high season in December and January. Many people do not realize that they need to fill this card out and head straight to the immigration line. When they finally make it to the immigration officer they have to go to the back of the line to fill out the card. Therefore it is very important to fill out this card before you head to the immigration line.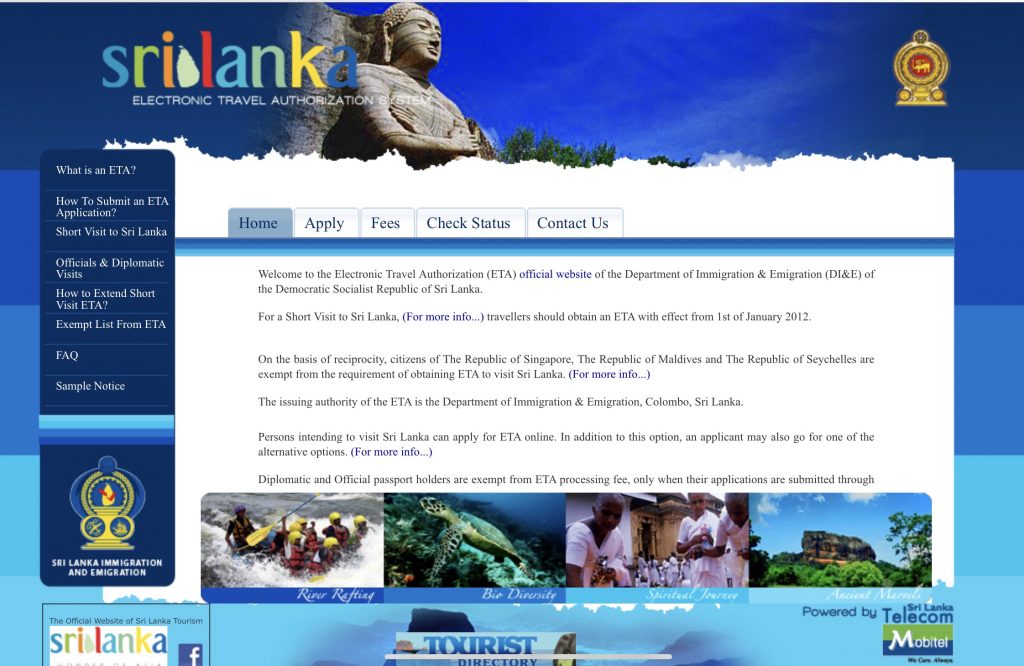 Applying For ETA on Arrival
🚩Update Dec 2021: This option is temporarily suspended!
(When arriving in Sri Lanka you do have to option to apply for ETA at the airport. This is not recommended as it often is long lines to the application desk and at the immigrations stations. Meaning you will have to wait for quite some time, before you can pick up your luggage. This can also be an option if you have issues with your online ETA application, or if you did not receive confirmation of the ETA.)
Transit Visa
If you are looking for a visa for your transit, the site is still applicable. A transit visa is for a single entry into the country, allowing you to stay up to two days. You can obtain the transit visa in advance or on arrival at the airport. Make sure you use the offical goverment site.
Applying For 90 Days Visa to Sri Lanka
If you already know you want to stay longer than 30 days in Sri Lanka, you can apply for a 90 day visa. This have to be done at the Sri Lankan embassy in your country. There are different types of Visas you can apply for, either with a single entry or double entry visa. You should check with your local embassy for more information on the process and price.
Extending your Visa/ ETA
If you wish to extend your visa after your first initial 30 days in Sri Lanka you can apply for an extensions. When extending your visa you have to make a visit to the department of immigration. As you have to show up in person this can be a lengthy process. There are several steps you have to take and waiting in between each step. Make sure you plan ahead and bring something to make the time pass by. It is also smart to bring something to drink or eat, but there is a cafeteria in the building. You can extend your visa up to 90 days from your initial arrival.
There are third party agents that can help you with the process. These agents cost extra money and you have to make sure they are offically authorized. Therefore make sure you do your research before seeking help from any agents offering to help you. However, teh safest options is always doing it yourself.
There are plenty of options to recive ETA or visa for those who wish to visit Sri Lanka. The easies way is applying online before hand, thsi will save you the most time so you will not be stuck in any lines and can go right to exploring beautiful Sri Lanka.
For more information on what to do, you can contact us: travel@ateasehotel.com