Yes, most tourists need a visa to be allowed to travel to Sri Lanka. Most people can get visa upon arrival. You can also apply for the ETA (Travel Authorization) to get a 30 days tourist visa online.
UPDATE JUNE 2023: 180 DAYS ETA NO LONGER AVAILABLE!
This is the (only) official application page: 👉http://www.eta.gov.lk/slvisa/
How to apply for the visa to Sri Lanka before you travel?
💸 The price for the ETA- visa to Sri Lanka is USD 50. (children below 12 years: free).
💳 You can pay with VISA or Mastercard.
Make sure you have your passport details, flight details and credit card ready before you start the process.Please double check that you found the correct web page. It should look like this: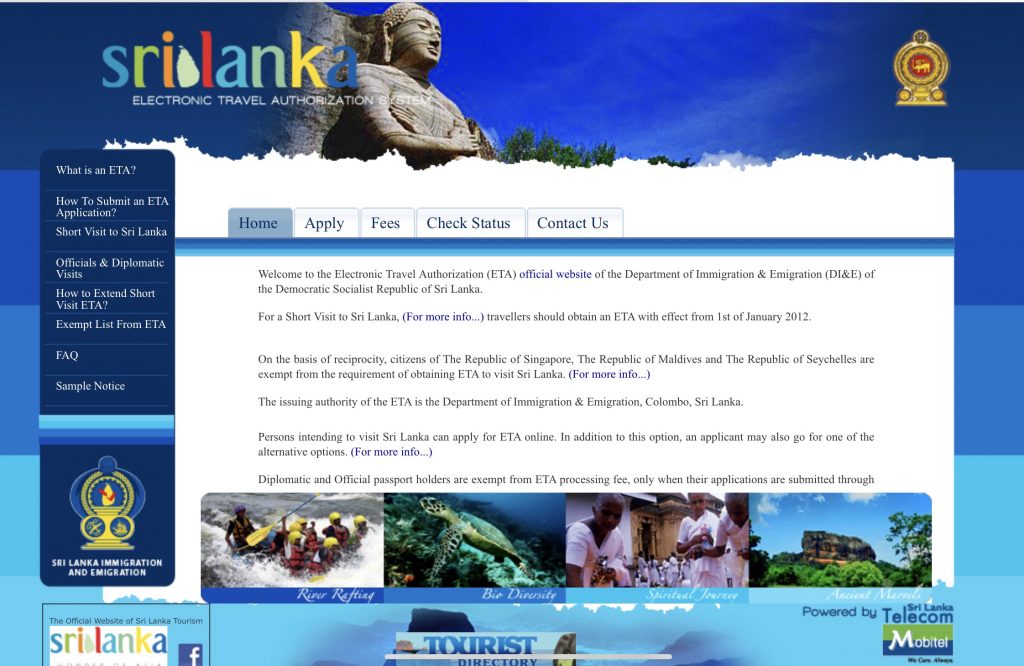 Select you language, APPLY, and tick to agree to the conditions. Then you can apply for an individual or a group/family and fill in our you contact details, and travel plans.
💡Please not that dates in Sri Lanka is in this format: MM/DD/YEAR.
Technical issue when applying for ETA:
The web page is quite old and not that user friendly. You can watch this video if you need help to fill out the application correctly.
Unfortunately, a lot of people face problems when applying for visa to Sri Lanka. 😱 Sometimes, the web page and especially the payment options are not working perfectly! You can also find it hard to fill out the visa application form correct, or you do not receive the e-mail confirmation.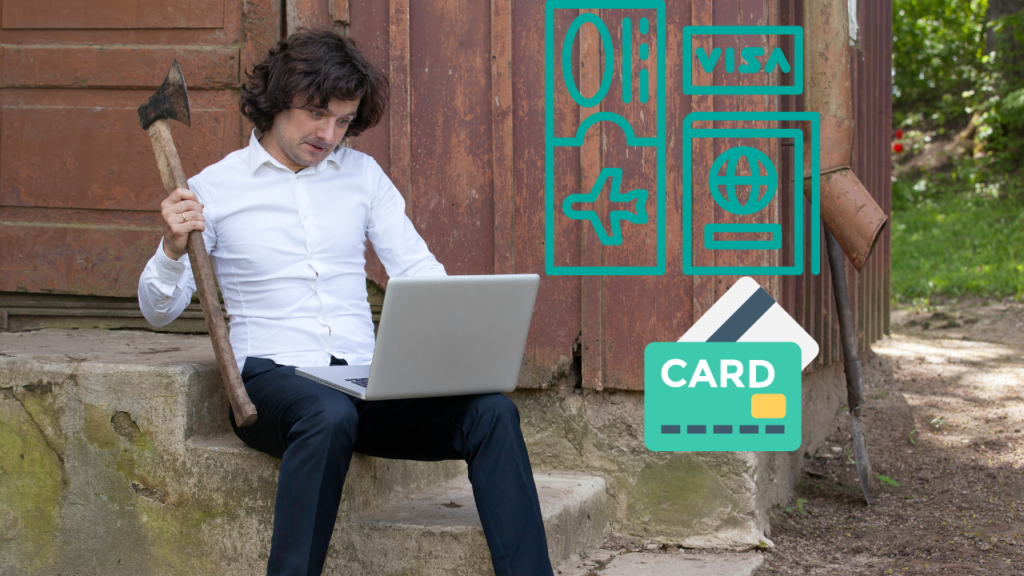 So before you crush your computer with an axe, watch my video about this👇
As stated in the ETA webpage, all ETA holders should be able to provide:
A round trip ticket to show at the port of entry in Sri Lanka
Evidence of sufficient funds to cover your expenses during your stay in Sri Lanka. (Holder of a credit / visa-card is sufficient👍)
Do you want more help to plan your holiday in Sri Lanka?
Check out all the information in the Travel At Ease-page, or send me a mail to travel@ateasehotel.com.
Electronic Travel Authorisation Online Application
The Sri Lankan government requires you obtain an Electronic Travel Authorisation or ETA. This can easily be obtain in advance through this government site: http://eta.gov.lk/slvisa/. The form does not take long to fill out, and you should receive a confirmation within a few hours of completing the form. You can apply for ETA from 90 days until 24 hours until your arrival.
If you do not receive an email confirming your ETA: See my video above for solution.
Printing out the confirmation or receipt is not necessary as it is connected to your passport.
There are websites offering to complete the ETA application for you. Some of these sites are not trustworthy, either they overcharge you or you do not receive your ETA at all. Therefore these sites are not recommended. You should not have to pay more than $ 50 dollars for your ETA if you apply in advance. Therefore make sure you fill out your application through the official government site : http://eta.gov.lk/slvisa/.
Applying For ETA on Arrival
Price: USD 60
(When arriving in Sri Lanka you do have to option to apply for ETA at the airport. This is not recommended as it often is long lines to the application desk and at the immigrations stations. Meaning you will have to wait for quite some time, before you can pick up your luggage. This can also be an option if you have issues with your online ETA application, or if you did not receive confirmation of the ETA.)
Transit Visa
For short transit in the Airport, there is no need to get a visa. For up to 2 days, you can obtain the transit visa at the airport for free.
Applying For 90 Days Visa from the Embassy in your country:
If you already know you want to stay longer in Sri Lanka, check options at the Sri Lankan embassy in your country. Please note that you need to apply for an entry visa (not tourist vis) , if you later want to transfer to a business or resident visa.
Extending your Visa
If you wish to extend your visa after arriving Sri Lanka you can apply for an extensions. The short term visit visa may be extended maximum 3 times: first 60 days and following that 90 days 2 times.
If you want to extend your visa, you have 3 options:
Online application: https://eservices.immigration.gov.lk/vs/home.php.
Visit to the department of immigration in Colombo. There are several steps you have to take and waiting in between each step. Make sure you plan ahead and bring water, snacks and something to make the time pass by.
There are third party agents that can help you with the process. These agents charge extra of course, and you have to make sure they are officially authorised.
For more information on what to do, you can contact us: travel@ateasehotel.com
Arrival Card
💥 Newsflash 2023: It is now possible to fill out the Arrival Card for Sri Lanka online. 💥
👉 Link to online Arrival card.
The next best option is to fill out the Arrival Card on your flight to Colombo. (It saves you the time and trouble in front of the Immigration Desk).
An example on how to fill out the Arrival Card for a foreigner visiting Sri Lanka for a holiday at ease: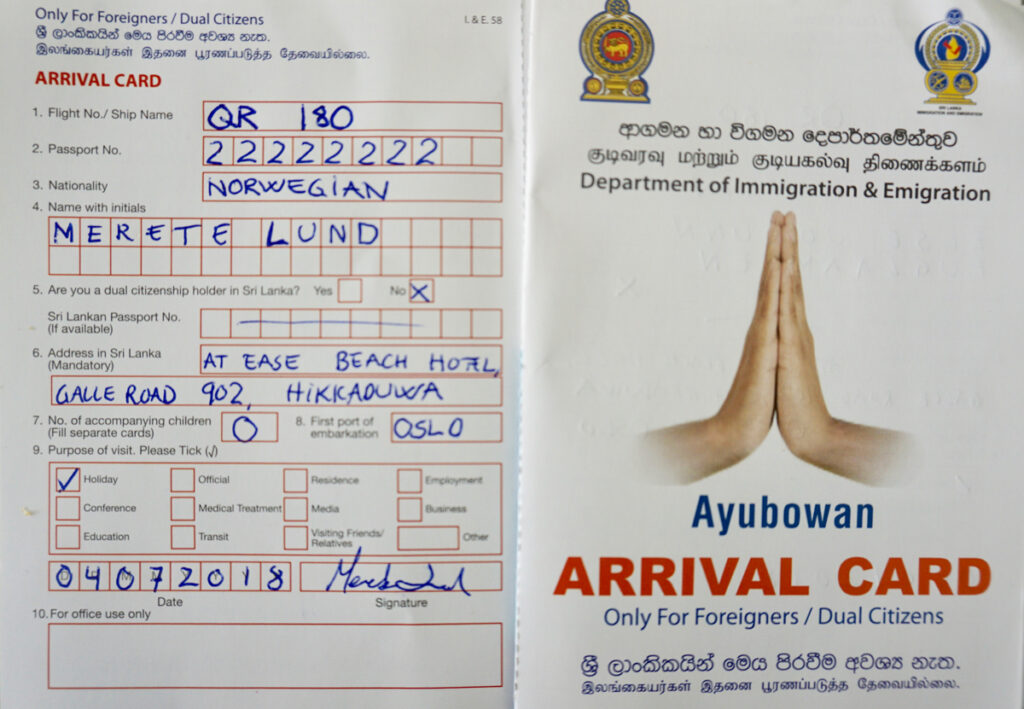 ☝️ This is an example of what it looks like.
PS: make sure you ask the flight attendant for the arrival card, if they do not give it to you. It is so much easier to fill it out while seated in your flight. Depending on the airport, the line to the immigration check point at arrival can be long and especially during the high season in December and January. Many people do not realize that they need to fill this card out and head straight to the immigration line. When they finally make it to the immigration officer they have to go to the back of the line to fill out the card. Therefore it is very important to fill out this card before you head to the immigration line.
I hope these travel tips are helpful💖
Next read: Updated ENTRY RULES TO SRI LANKA.