There are 8 UNESCO World Heritage sites in Sri Lanka. These sites range from historic cities and sacred shrines to verdant woods and amazing cave complexes. These sites illustrate the unique blend of cultural legacy, spirituality, and stunning natural beauty of the country, known as the Pearl in the Indian Ocean.
Ancient City of Polonnaruwa
Ancient City of Sigiriya
Central Highlands of Sri Lanka
Old Town of Galle and its Fortifications
Rangiri Dambulla Cave Temple
Sacred City of Anuradhapura
Sacred City of Kandy
Sinharaja Forest Reserve
A Journey Through Time and Heritage: Exploring the World Heritage Sites of Sri Lanka
Ancient City of Sigiriya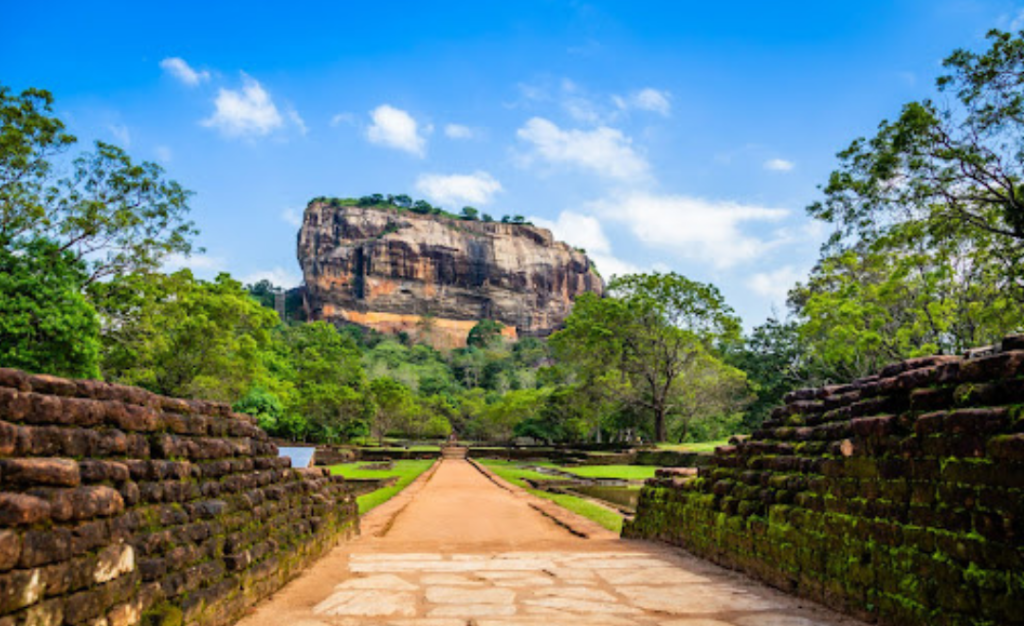 Our journey begins at the historic stone castle of Lion Rock, also known as the historic City of Sigiriya, which is widely regarded as the world's eighth wonder. This UNESCO World Heritage Site is home to magnificent gardens and an ingenious water management system. The Mirror Wall with ancient inscriptions is one of the most fascinating things to see.
Sigiriya's most attractive features, however, are the site's stunning frescoes, which are widely regarded as some of the best examples of ancient Sri Lankan art and the most magnificent depictions of female beauty ever painted. Moreover, the lion-shaped gateway, which was formerly the primary entrance to the royal palace, is today a popular destination for tourists. The painstaking climb to the top of the rock is more than justified by the stunning vistas that can be seen from there. Sigiriya offers a glimpse into the grandeur and architectural brilliance of ancient Sri Lanka.
Sacred City of Anuradhapura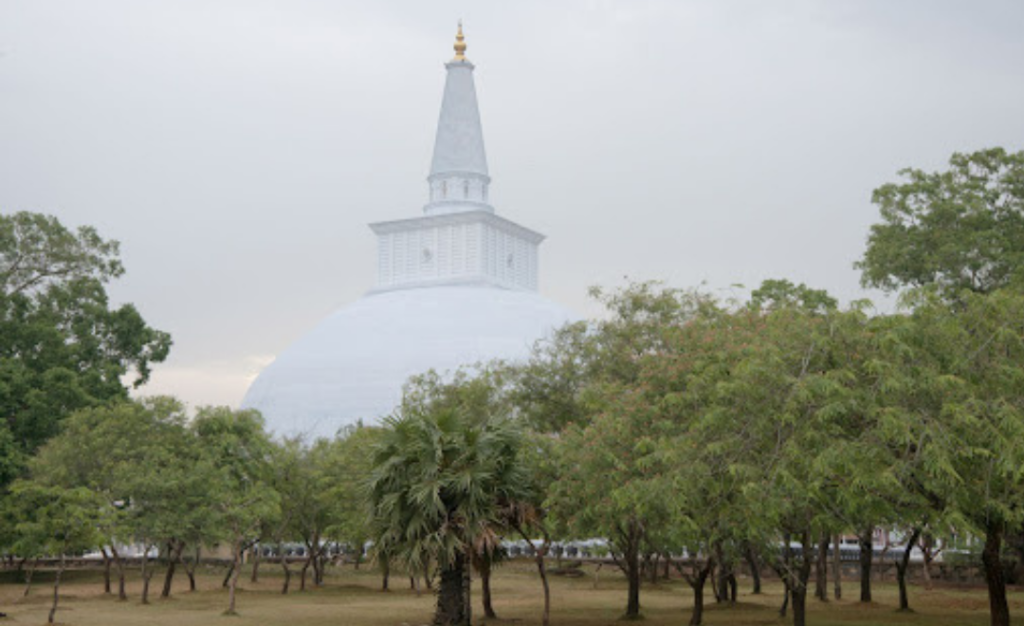 Anuradhapura, known as the "Sacred City of Temples" in Sri Lanka and treasured by Buddhists worldwide, will be our next stop on our journey. This once-thriving capital city is still home to a number of monastic buildings and enormous brick stupas. It is said that a branch from the tree under which Lord Buddha attained enlightenment eventually gave rise to the sacred Bodhi tree (The Sri Maha Bodhi). As a result, the Bodhi tree has come to represent an enormously significant aspect of religious practice in the country.
Sacred City of Kandy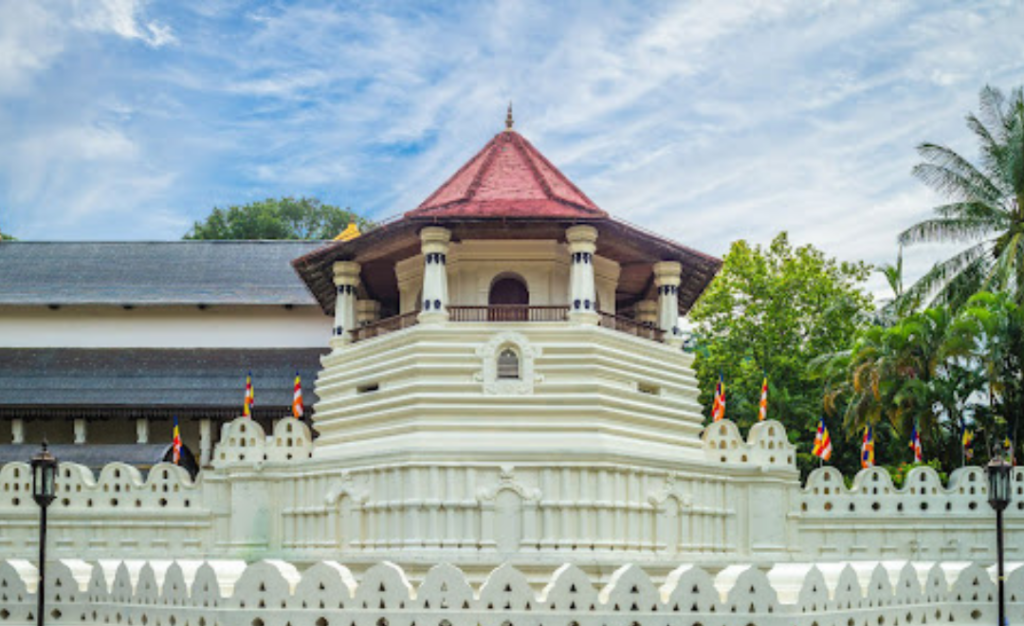 The historic city of Kandy, which is found in the magnificent central highlands of Sri Lanka, is a popular tourist destination due to the spiritual significance of the area as well as its rich history and colorful culture. The Sri Dalada Maligawa Temple, more commonly referred to as the Temple of the Tooth Relic, can be found right in the middle of this intriguing metropolitan area. This temple is renowned because it is believed to house an invaluable relic—the tooth of Lord Buddha himself. The Esala Perahera is Kandy's most important and well-attended annual celebration, and it is named for the sacred tooth relic that is displayed in the temple.
The religious and cultural significance of Kandy is only a small part of the city's overall appeal. The natural beauty of Kandy, which includes both the tranquil Kandy Lake and the stunning flower gardens, contributes to the city's aura of mystery. Visitors to Kandy have the chance to fully immerse themselves in Sri Lanka's rich cultural history, feel the warm embrace of the country's customs, and be astounded by the incredible natural beauty of the surrounding area.
👉 You can read more about these 3 historic Sri Lankan kingdoms here
Ancient City of Polonnaruwa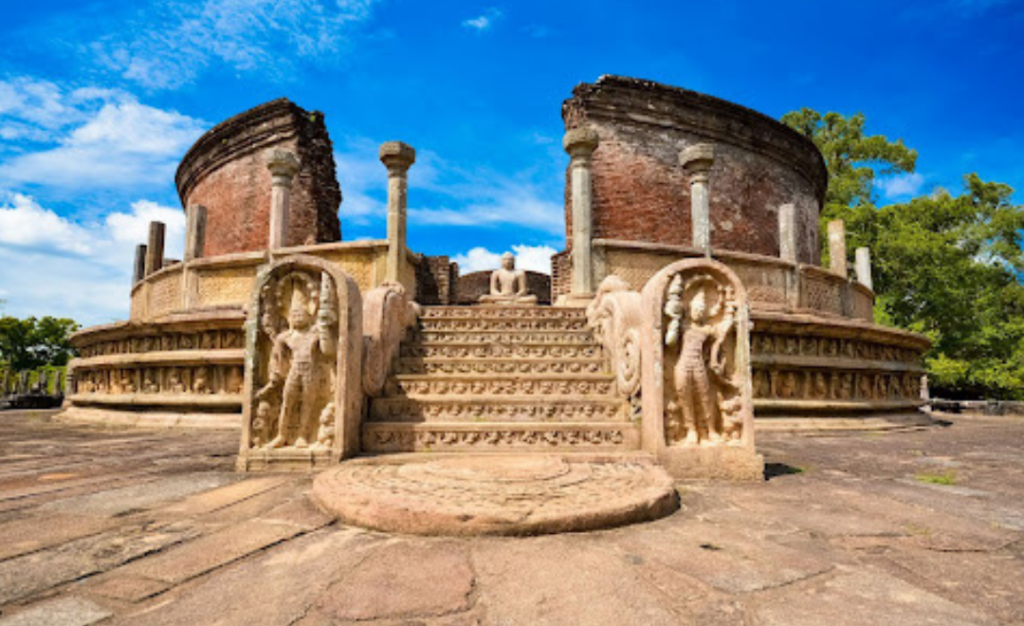 Our next destination will be the ancient capital of Sri Lanka, Polonnaruwa, which was at its peak of prosperity during the 11th and 13th centuries. The Gal Vihara is just one of the jaw-dropping sights that can be found at this UNESCO World Heritage Site. It is an incredible grouping of four huge Buddha statues that have been meticulously carved from a single rock of granite. The exploration of the Polonnaruwa ruins enlightens us regarding the prosperous community that used to exist behind these walls at one time. The well-run metropolis was ornamented with structures that had been meticulously designed and cutting-edge irrigation systems. The remnants of royal palaces, audience halls, and religious institutions attest to the luxury and splendor that made Polonnaruwa a thriving metropolis.
Rangiri Dambulla Cave Temple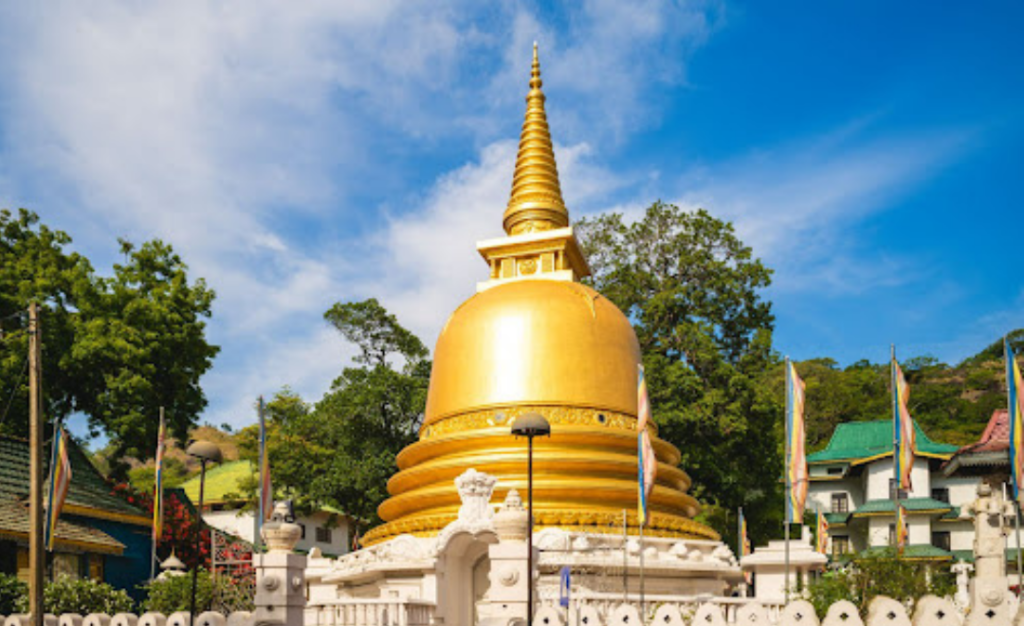 The Golden Temple of Dambulla, built on a rocky outcrop, is a famous example of Sri Lankan religious architecture. More than 150 Buddha statues can be seen throughout this historic compound, which dates back more than 2,000 years. Those in search of enlightenment on a spiritual level, as well as those merely interested in beautiful artwork, will feel right at home here.
The Dambulla Golden Temple is a remarkable example of how religion, art, and nature can coexist in perfect harmony. Visitors can lose themselves in an experience that transcends time and space because of the temple's abundance of Buddha statues, beautiful murals, and breathtaking surroundings. You'll be astounded by the stunning aesthetics and serene atmosphere of every trend as you explore the temple's sacred grounds. This experience will no doubt leave you with a renewed respect for the balance between spiritual practice, creative expression, and the natural world.
Old Town of Galle and its Fortifications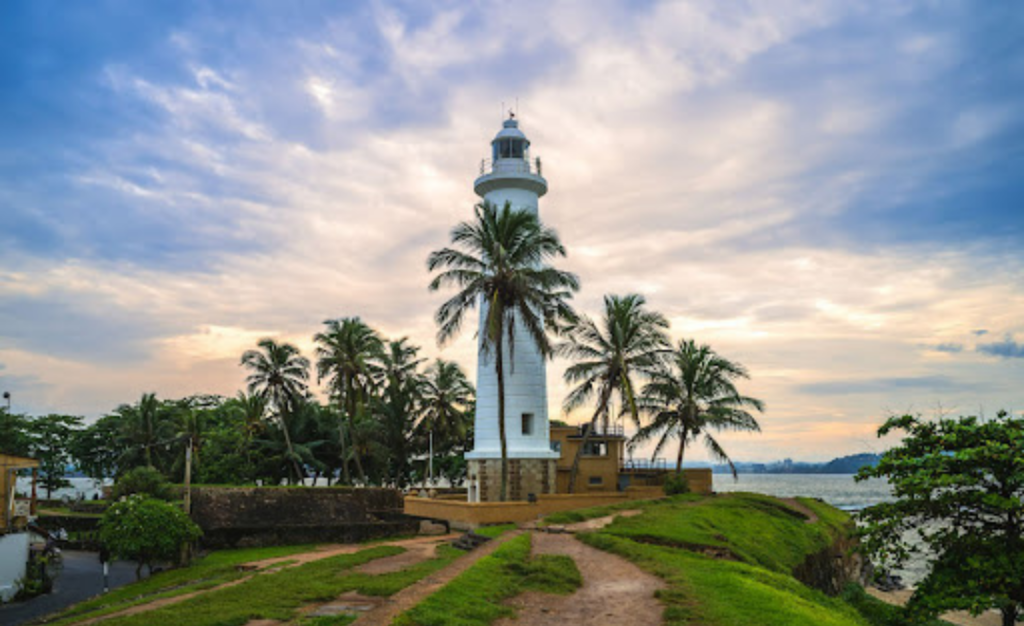 Our next stop will take us to the seaside of the old Town of Galle and its Fortifications, which are famous for the historic district that has been meticulously conserved and the imposing walls that surround it. This UNESCO World Heritage Site, which the Portuguese built in the 16th century and the Dutch later reinforced, is an intriguing reminder of Sri Lanka's colonial past. The architectural style of the Galle Fort is a fascinating combination of indigenous components and European influences on the aesthetic. As we make our way through the maze of streets that make up this city, we come across an array of little boutiques, historic churches, and luxurious homes. Anyone who is interested in colonial history, Sri Lanka's booming cultural scene, or the island's endless beaches should not miss the opportunity to visit Galle Fort.
From the intertwining narratives of colonial heritage to the idyllic coastal beauty, Galle Fort has something to offer every traveler.
👉 You can read more about Galle Fort here
Central Highlands of Sri Lanka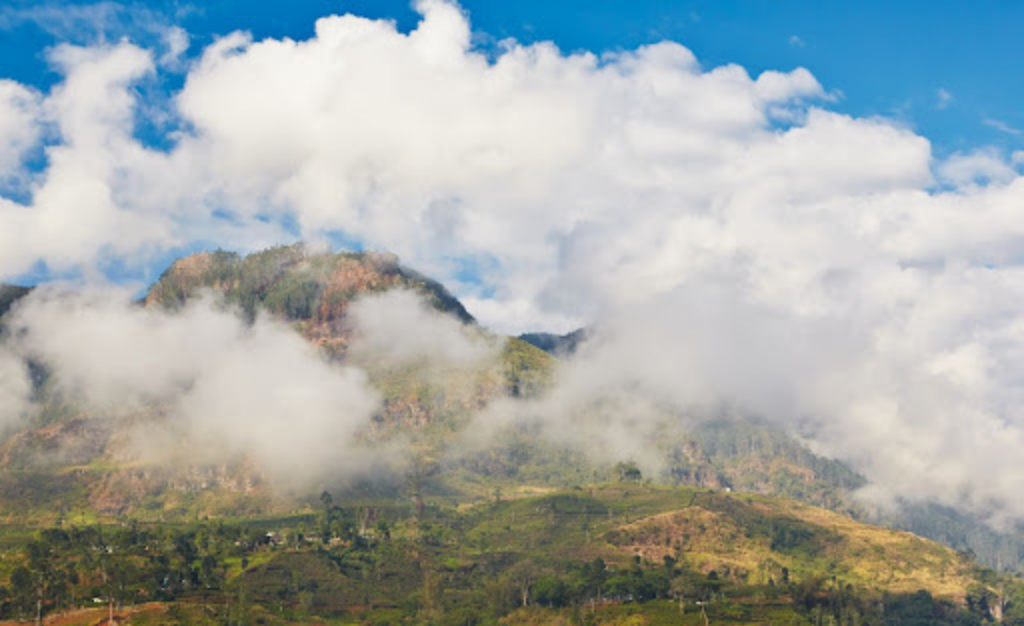 We proceeded deep into Sri Lanka to the Central Highlands, a region that is recognized as a UNESCO World Heritage Site because of the extraordinary biological and ecological diversity that can be found there. A breathtaking vista of lush tea plantations, towering mountains, and gushing waterfalls all set against a backdrop of natural beauty World's End, which is found within Horton Plains National Park, is a lookout point that is accessible throughout the year and offers breathtaking vistas of the surrounding area. Hikers and nature enthusiasts who want to get an up-close look at the country's extensive natural heritage head to the Knuckles Conservation Forest, which is found in the country's Central Highlands. The forest is a popular destination because of its location.
Sinharaja Forest Reserve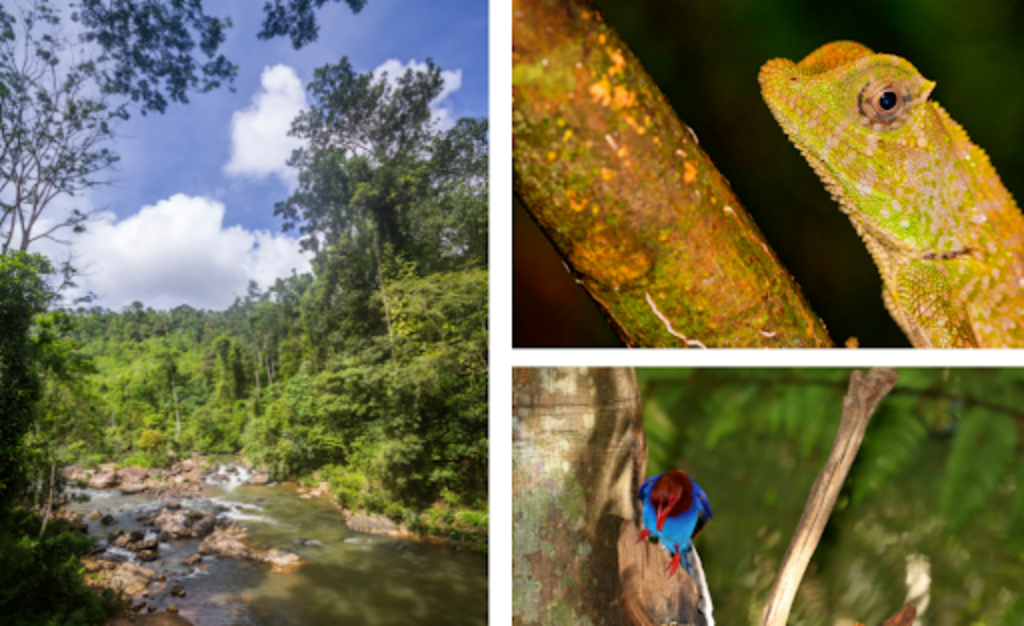 Our journey will end in the breathtaking Sinharaja Forest Reserve, a tropical rainforest that has been declared a UNESCO World Heritage Site and an important hub for wildlife. This enchanting wonderland is home to a number of plant and animal species that can be found nowhere else on the face of the earth. You never know what kind of exotic birds, cheeky monkeys, or even elusive reptiles you might come upon while wandering its meandering roads and searching through its deep canopy.
Discovering the true, living environment that is contained within Sinharaja Forest Reserve is an exhilarating endeavor in itself. Hiking through the woods with a knowledgeable guide is an excellent method to gain an understanding of the connection between the inhabitants of the forest as well as the delicate balance that exists in the natural world. When you visit Sinharaja Forest Reserve, there is never a moment when you won't have the opportunity to marvel at the wondrous things that nature has to offer.
Explore these wonders with Us 🤩
The many locations in Sri Lanka that have been designated as UNESCO World Heritage Sites are excellent examples of the country's extensive history and varied cultural practices. The histories of ancient cities such as Sigiriya and Polonnaruwa, sacred cities such as Anuradhapura, Kandy, and Dambulla, and the colonial splendor of Galle Fort are all intriguing. Every city has its own particular personality and offers a unique journey through time, unveiling the layers of history, spirituality, and cultural diversity that make Sri Lanka an enchanting destination. Visiting the many UNESCO World Heritage Sites in Sri Lanka is an excellent way to learn about the country's rich spirituality, history, and culture. A trip to these destinations will definitely leave an impression on visitors and provoke them to reflect on the country's rich legacy.
👉 Our 10 days tour – Sri Lanka At Ease, covers several of these UNESCO sites and much more. You can read the program and more information here