Many people planning spring- and summer holidays in Sri Lanka are asking me this question: is it safe to travel to Sri Lanka now 🤔
I will give detailed information and my advice on the current situation in Sri Lanka in this blog posts, and I hope you find it helpful 😊 First of all I want to share my top 10 recommendations for a safe & pleasant holiday:
⭐ Always have a valid travel insurance from your country. This should not only cover cancellations if you have to cancel your trip in the last minute. More important is it that it will cover and help you in any medical (or other) emergencies.
⭐ Book all transport through a reputable tour operator or through your hotel. That way you will get a professional driver that can also give you guiding, information and help on the way. You can also book round tours over several days – to get an amazing insight and experience!
⭐ Select hotels that have a generator. -Or if travelling on a very strict budget: be prepared for daily power cuts!
⭐ Bring a torch and power bank to help you during power cuts. If you are planning to work online here, consider bringing a small solar charger 🔌☀️
⭐ Buy a local SIM-card after arriving in Sri Lanka. (I recommend Mobitel) You can top up with affordable 4G internet, to always stay connected even during power cuts.
⭐ Be prepared and informed about Sri Lanka as a travel destination. Power cuts, and sudden changes in the situation here is normal. And as much as we try to give the correct information at all times, we actually do not know how the situation will be in June (or not even next week!). If any changes in travel plans freaks you out – then Sri Lanka might not be the destination for you……
⭐ Stay away from any demonstrations or large gatherings of crowds. (🇱🇰❤️ show your support through social media in stead)
⭐ Follow travel recommendations from your government, and listen to the advice given to you by the hotel you are staying at.
⭐ At the moment I would avoid travelling to the capital, Colombo. 🏖️🌴Head to the beaches in the west, south, or east – or go on a round tour with a driver to the beautiful Highlands, temples and tea plantations ⛰️🍃☕
⭐ Bring all medicines you need for your stay. ☀️Also bring quality sun screen (as it is hard to find here at the moment) .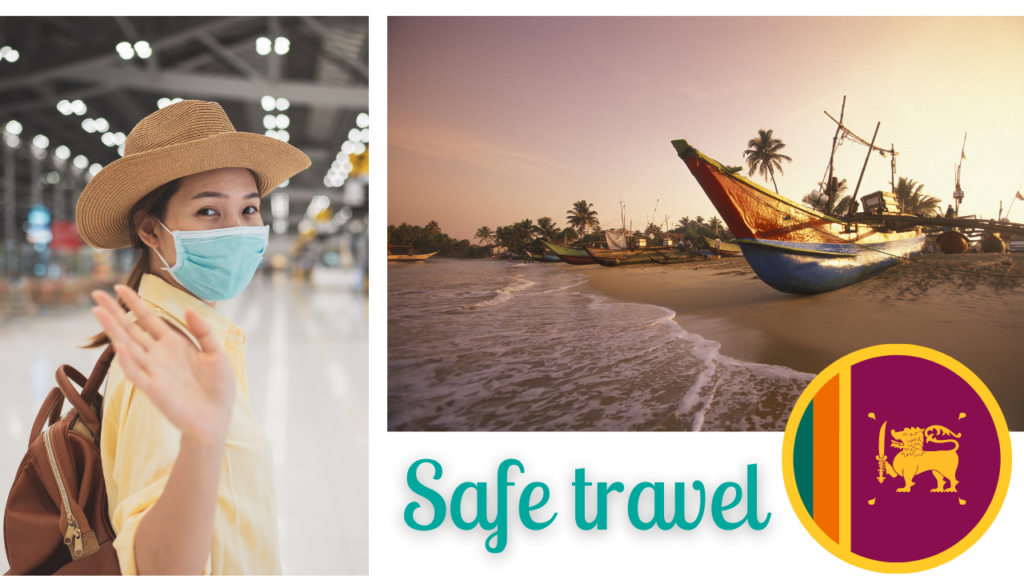 The situation in Sri Lanka right now:
Sri Lanka is an economic crises, due to several reasons. Dept in billions, tax cuts, insufficient exports and Covid-19 pandemic that cut of the important tourism earnings for a long time.
The inflation of the value of the local currency LKR, looks like this: In February you would get apx 200 rupees for 1 USD, today you will get apx 300 💸💸💸 (And this is the legal, bank exchange rate – on the blackmarket up to 50% more!)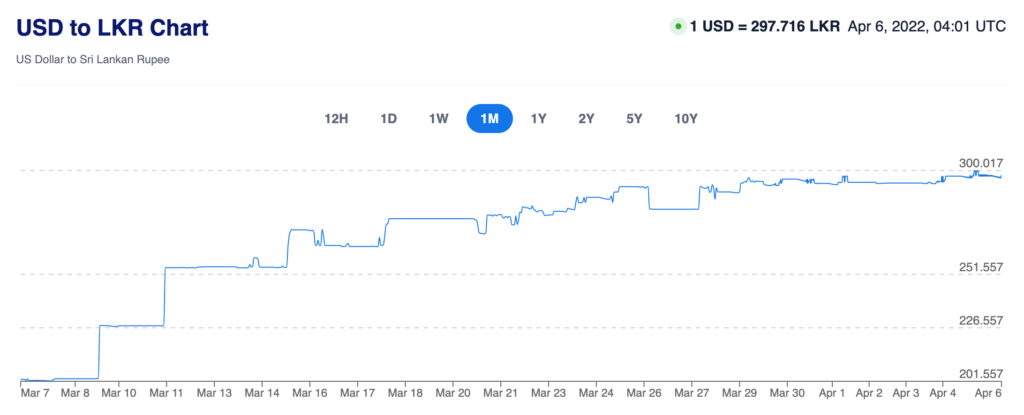 One reason for this economic crises however is political mismanagement over decades. And this is what brings the people out on the street protesting. The politicians are accused of being corrupt, caring more of putting 💵 in their own pockets than their country.
And it is not hard to understand the frustration of the people. Such a beautiful country, rich in natural resources finds itself completely bankrupt. There is no foreign currency reserve, and no USD to import essential products like fuel and gas. Many people are going back to their traditional way of cooking with open fire (!) and people face standing in hour long queues to fill fuel on their vehicles. Islandwide daily power-cuts (2-12 hours! ) have also been the reality for over a month know. Exception only for the president and ministers families, of course 😰
Aljazeera explains it better than me here👇
Most of the demonstrations are being held in the capital Colombo. There have also been protests in larger cities like Kandy, Galle and also smaller protests in many towns islandwide, even a small, peaceful demonstration here in Hikkaduwa. 🇱🇰❤️ People peacefully demonstrating for a better future – with better political rulers.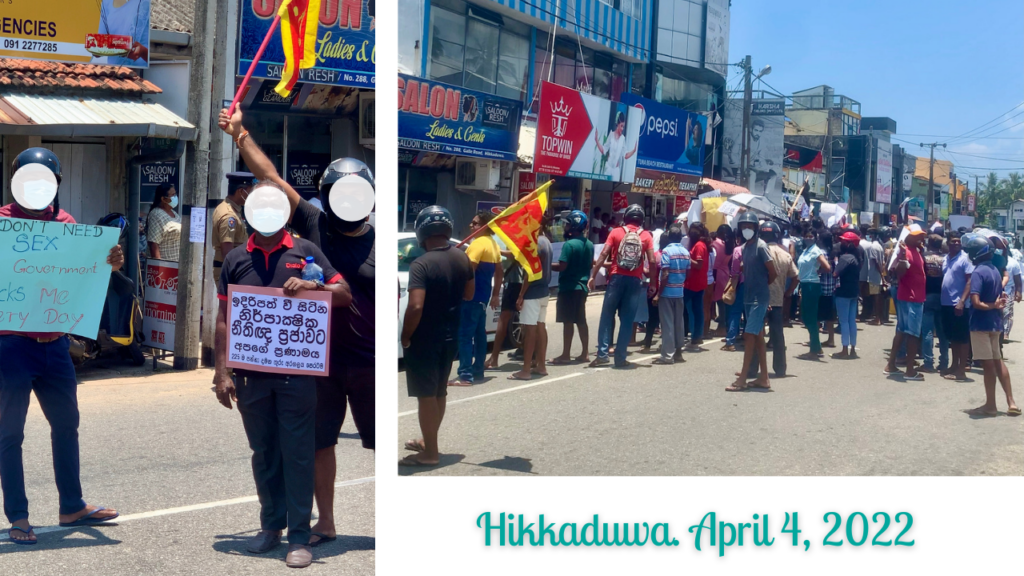 Peaceful demonstration opposite Hikkaduwa bus stand, April 4, 2022.
Is it safe to travel to Sri Lanka right now?
So, to get back to my initial questions: YES🇱🇰 I still find it safe to travel to Sri Lanka, and I do not hesitate to still recommend guests, clients, family and friends to travel here right now.
The main 3 factors at the moment are to book transport with a reputable company, preferably with a guide that can help you being informed and safe at all times, avoid the big cities and stay at hotels with a generator – and you will have a wonderful holiday in a country that need tourists more than ever 🌴🏖️☀️🇱🇰
We always found cooking gas and diesel for our generator (even though it sometimes meant lot of time queuing), and since the last days large shipments have arrived from India 🎉 We do not always run the generator in the daytime (when guests are on the beach anyway, but we always provide electricity at evenings, night and whenever needed. We have diesel for all our planned tours and transport for this month – and our drivers and guides are super motivated to show YOU the best of Sri Lanka 🚌😍
Scroll back up to the top ☝️☝️ read my 10 recommendations for a safe and pleasant holiday in Sri Lanka. Travel, smile & enjoy!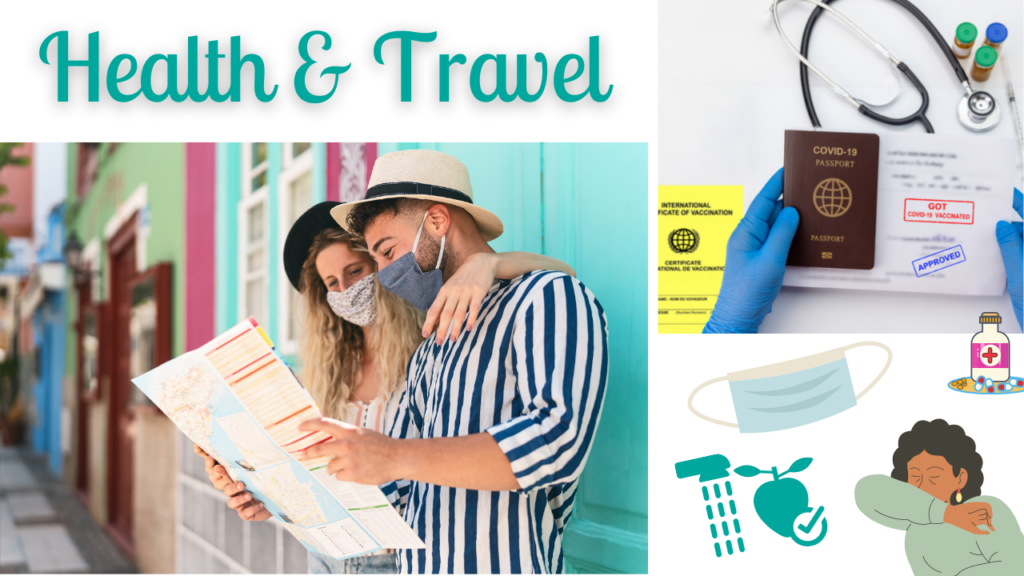 Covid-19 in Sri Lanka – April 2022
With only 112 new cases of Covid per day (among a population of 22 millions), the risk of getting sick in Sri Lanka at the moment is relatively small.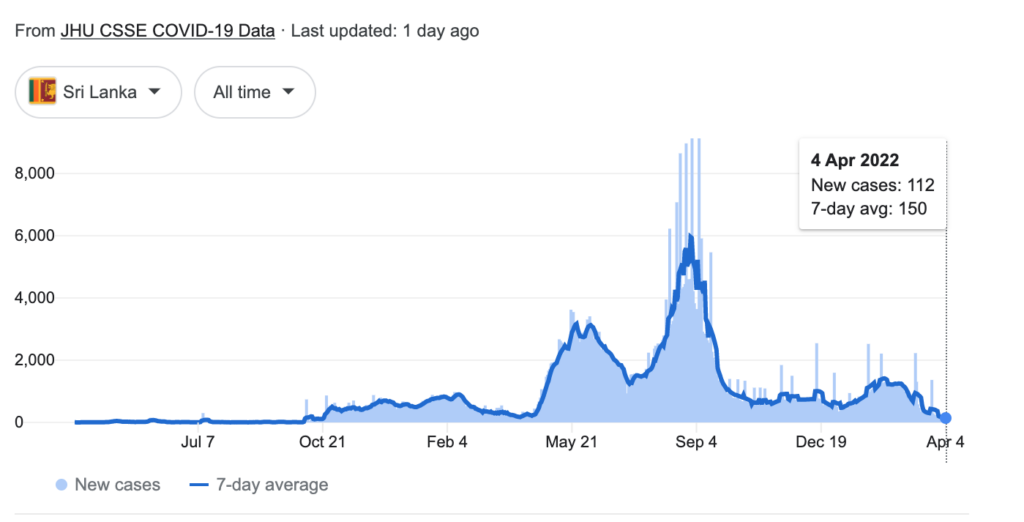 As long as you are vaccinated, you don´t even need to get tested or undergo quarantine at all when travelling to Sri Lanka. Of course you should still use the preventive measures we are getting used to: wash your hands & keep your distance. 😷 Masks are still mandatory to use airplanes, transport and in public spaces here in Sri Lanka.
👉👉 Read all about the rules to enter Sri Lanka HERE!
Safety: Food & drinks
Due to the many power-cuts affecting restaurants: please be extra careful and make sure to order food that is cooked well and safe to eat. There are a rise in tummy-problems amongst tourists and locals alike…
Bring medicine and sun screen:
Bring all prescript medicines you need for the length of your holiday. Also bring good quality sun screen, as it is hard to find at the moment. ☀️ And April/May is really hot and sunny!