Sri Lanka 🚂 by Train
In this article we will show you how to Travel Sri Lanka by Train and how to select the best route.
Sri Lanka is a beautiful country with so much to explore within a small land area. Around the island, there are pristine beaches. In the central hill, green tea estates are producing the best tea in the world. Then there is ample wildlife to observe and village life to experience.
All these need a good transportation network to allow you to move across the island. The railway network connects most of the major tourist destinations to Colombo.
You will find the detailed routes in the webpage of Sri Lanka Railways.
The train ride in Sri Lanka is also very cheap and comes at no extra charge even if you are a foreigner. Moreover, they offer stunning views, and the train ride is a must if you happen to visit this paradise island.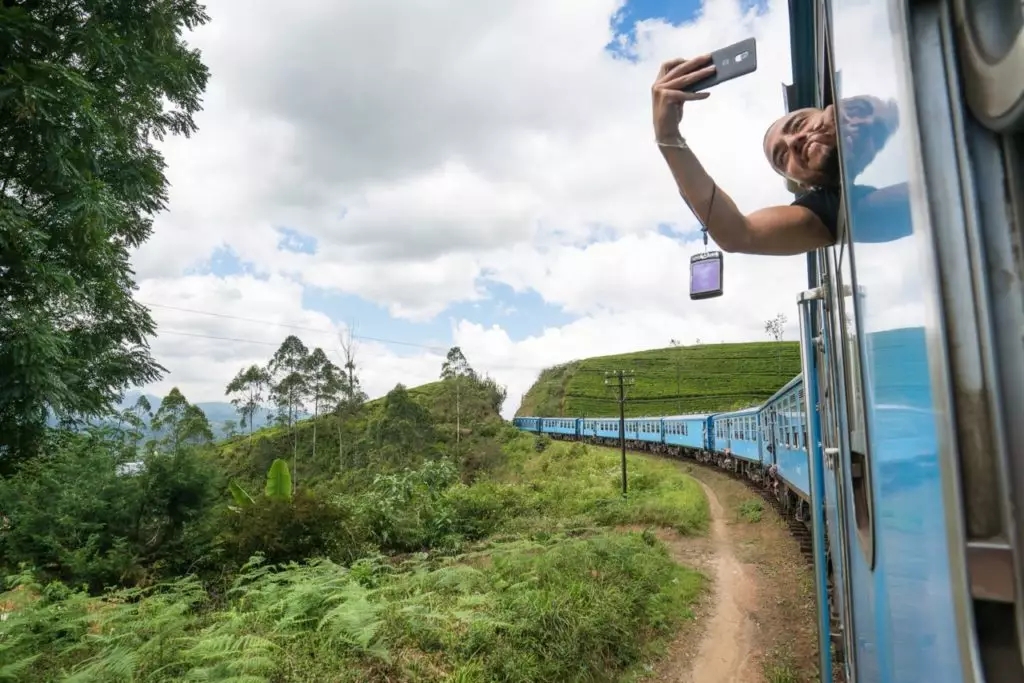 🚞Train routes in the highland🚞
Trains play a significant role in the lives of the people in the central highlands.
For most of these towns, trains remain the primary mode of transportation.
Railway tracks also serve as footpaths for most of the village people in the mountains. You will see a lot of people walking on the tracts (even though it is technically illegal) when there are no trains.
Train from Kandy to Ella
In Sri Lanka, the most scenic railway route is the Kandy to Ella route.
This route is the highest part of the railway track in Sri Lanka. It goes through tea estates and cloud forests from one end to the other. The train moves, winding along the mountain track. These offer some of the most stunning views of the country.
Please note, that the complete tour between Kandy and Ella is more than 7 hours. For most people, that is just a bit too much! We usually recommend to chose only the half. You can for example travel from Ella to Nano Oya (Close to the colonial city Nuwara Eliya) – or from Nano Oya up to Kandy.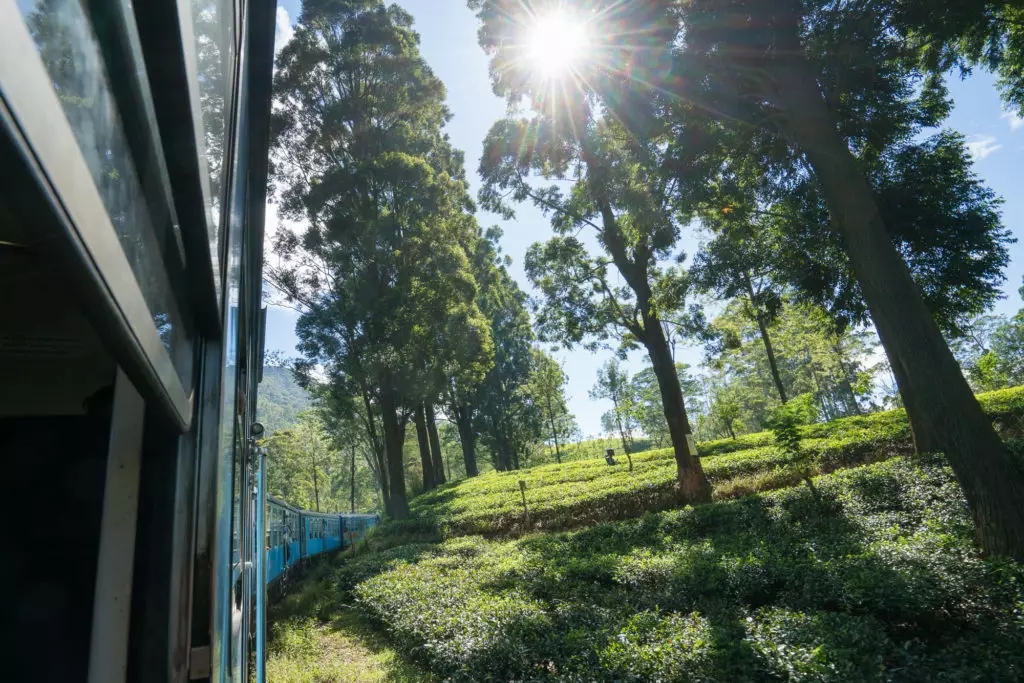 Hill country destinations
Ella remains the most demanding hill country destination in this scenic route.
For most travellers, this is either the starting or finishing point of their train journey. Ella has the best backpacker vibes in the hill country. There are few major hotels, but a variety of small guesthouses, luxury villas, and homestays. Those who come to Ella hike in the Ella rock and the little Adam's peak.
The Nine Arch Bridge in Demodara – off the Ella town – is another famous landmark in the area. And a magnet for Instagrammers from around the world.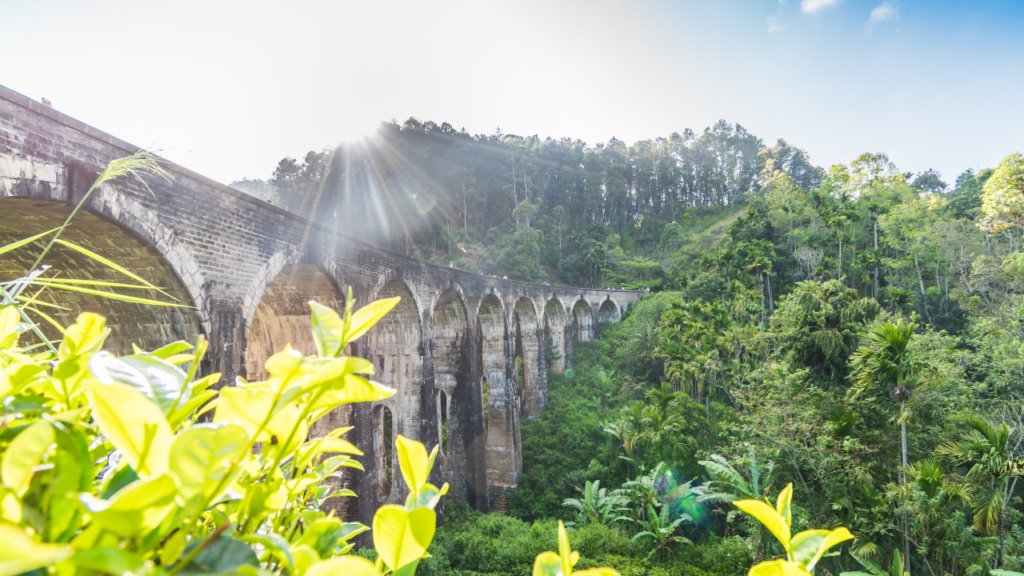 Nine Arch Bridge is an engineering marvel. This massive bridge was built without a single piece of steel.
That was during the first world war – and work completed in 1921 – and trains going over it to this day.
Practical information about travelling by train in Sri Lanka:
Different Trains & Classes:
There are a few different types of trains in Sri Lanka. Some of them classified according to travel time. And others according to the general purpose of it.
Travel time-wise, there are two main types.
The express trains go fast. They only stop at major stations. For example, the express train from Colombo to Beliatta will only stop at major stations like Galle and Matara. And it will not stop at Mirissa.
The slow trains, on the other hand, stop at all the stations in their route. As a result, they travel significantly slower. Usually, an express train will cover the same distance as a slow train in half the time.
Other than express and slow trains, there are special categories of trains. Office trains carry office workers during office hours.Then there are night mail trains which carry the mail each night.There are special intercity trains that run between major cities. And they make the least number of stops.
Classes of tickets
There are also different classes of tickets. Each class of tickets has specific carriages designated for them.
The third-class ticket is the most used. It is the cheapest form of the ticket as well. Most of the locals use these tickets since they are more affordable. As a result, finding a seat in a third-class carriage will be a challenge.
The second-class tickets are a little more expensive. These carriages have more facilities compared to the third class. And since they are pricier, a fewer number of locals use them. So, you have a better chance of finding a seat, even if you did not book one in advance.
The first-class carriages are comfortable. And most of these carriages come airconditioned. You can book these tickets ahead of time. And some of them have individual sleeping cabins and others having observation carriages. The prices are on the high side, but they are still far lower compared to other modes of transportation.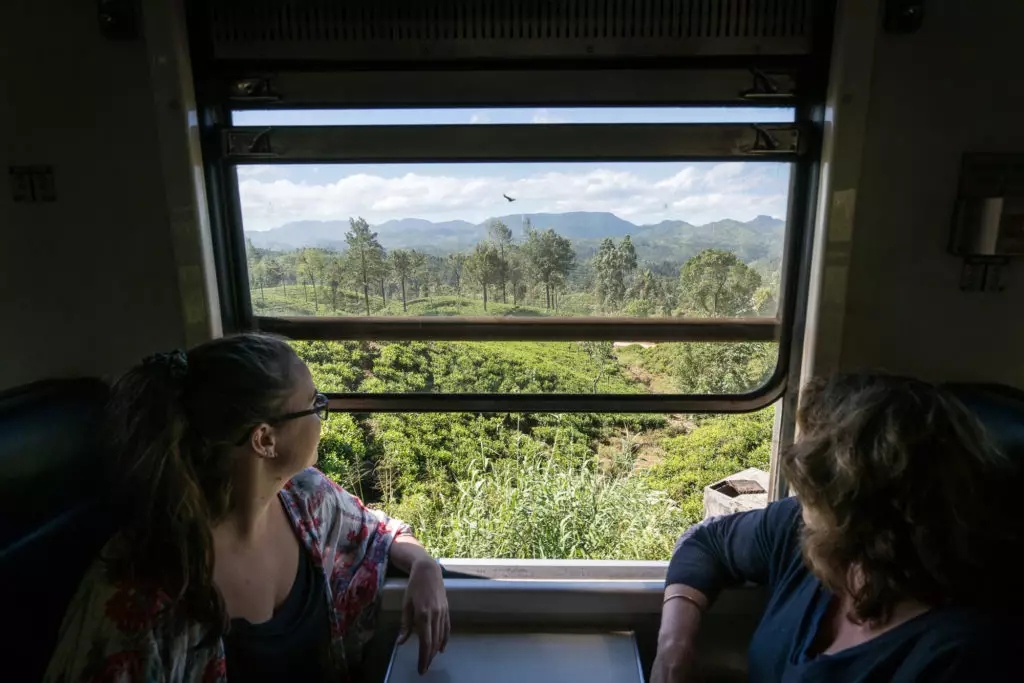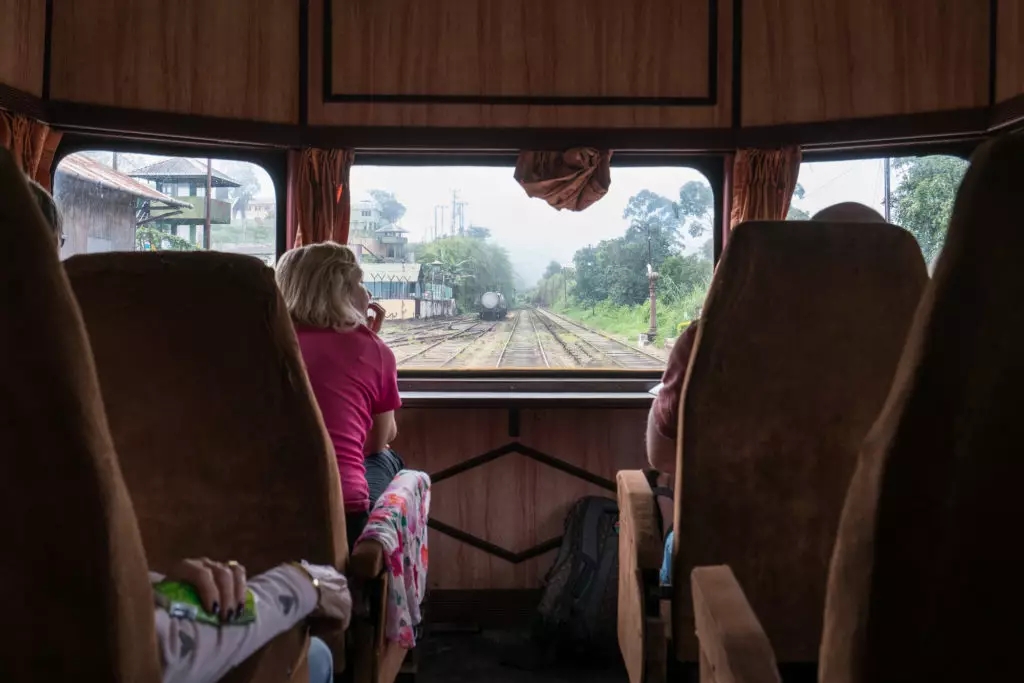 How to book tickets for your train ride in Sri Lanka?
You can book tickets for up to one month from the date of the journey.
Unfortunately, there is no online train ticket booking service available. Therefore, you need to have a local contact to book the tickets early on before you arrive in the country.
👉 We can book train tickets for you!
Just send us a mail: travel@ateasehotel.com, and we will book your tickets. You can collect the tickets once you visit our hotel in Hikkaduwa.
Other train routes in Sri Lanka
In addition the most famous train route in the Highland you will find other routes. Several routes are connecting other main cities and travel destinations in the country.
One of them runs along the southern coastline. A few more runs northwards from Colombo. These divide at various points. These then run up to Puttalam, Thalaimannar (Mannar), Kankasanthurai (Jaffna), Trincomalee, and Batticaloa.
Train from Colombo to Hikkaduwa
Hikkaduwa is one of the most popular beach destinations in Sri Lanka. The town also has a major railway station. Most of the express trains running along the southern coastal route make a stop here. The coastal route starts from Colombo. It extends up to Beliatta in the Hambantota district. The other major stations in this route are Kalutara, Galle, and Matara.
Colombo to Pasikuda
The northbound railway line separates at Polgahawela station. The mainline runs towards the central hill country. The other line moves north from Polgahawela. At Maho, there is another division. One line runs north towards Mannar and Jaffna through Anuradhapura. The other path goes east, towards Galoya. At Galoya, one line goes northeast toward Trinco. And the other goes southeast towards Batticaloa through Polonnaruwa. This route will take you to the pristine beaches of Pasikuda.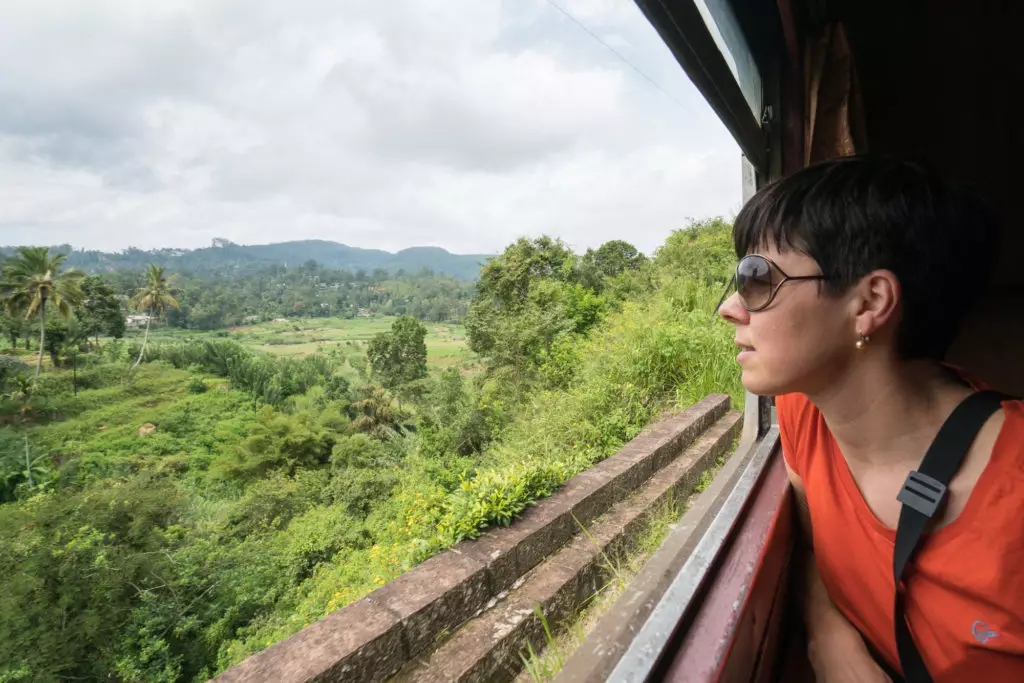 The negative side of going by train
While trains are cheap, the downside is that they are always busy.
Around 300,000 people use trains daily in Sri Lanka. And finding a seat in a popular route is still a challenge.
It is not the majestic ride you hoped for when you must go jam-packed inside a carriage for a few hours.
Boarding the carriage with heavy luggage and with kids is also a challenge.
So, if you are traveling with kids and if you have a lot of baggage, we recommend you to use some alternative mode of transport. As for the luggage, the trains offer better space compared to buses, which has no space to take a large backpack. But still, in a crowded carriage chance are that you will have no place to keep your luggage. So think about such possibilities when deciding which mode of transport to choose.
A train ride from Ella to Nano Oya is included in our 4 days tour; Best of Sri Lanka.
There is no train connection from the Airport
'At Ease Hotel' offer airport pickups at a very reasonable price. You can book the pickup HERE. While trains and public transport are available, we recommend you to use an airport pickup service when you first arrive in the country.
Conclusion – travel Sri Lanka by train
Train rides in Sri Lanka are among the best in the world. You should definitely try a Sri Lankan railway ride during your holiday.
But the reality may be far from those stunning Instagram photos you have seen.
Make sure you select the best route. We specially recommend the highland route from Kandy to Nano Oya or Nano Oya to Ella. You should also definitely get tickets with seat reservations on the best of the classes available.
We will help you to arrange your train tickets before you arrive in Sri Lanka. Just contact us, and we will assist you.