Sri Lanka is an all year travel destination, and the summer is a great time to explore this country. For most European families, the school holiday in July and August is the only chance to get a longer holiday in Sri Lanka. So what is the best way to travel Sri Lanka in the summer?
The Weather in Sri Lanka during summer:
The East coast has the best weather between May and September. 👉 You can read all the details about the weather in this blog post.
With that being said, it does not mean that you should completely skip the southern part of Sri Lanka if you travel in the summer.
The south has the most beautiful coastal area and it has a lot to offer🌴💛. Stay a few days in the south, visit Galle Fort, see the turtles🐢 and eat at some of the many charming restaurants in the area. 😊
Remember most of the rain falls in the late evening and night, most days are sunny here in July and August. 🌧️☀️ The main drawback for staying in Hikkaduwa in the summer, is that the sea is really rough. That means surfing and diving is not good this time of the year, and you should defintely stay in a hotel with swimming pool. Especially if you travel with kids!
After some relaxing days in the south, head out on a round tour to explore the main sights of Sri Lanka 🚌🇱🇰 and end up on the East Coast for some amazing beaches!
This round tour is perfect in the summer:
👇👇👇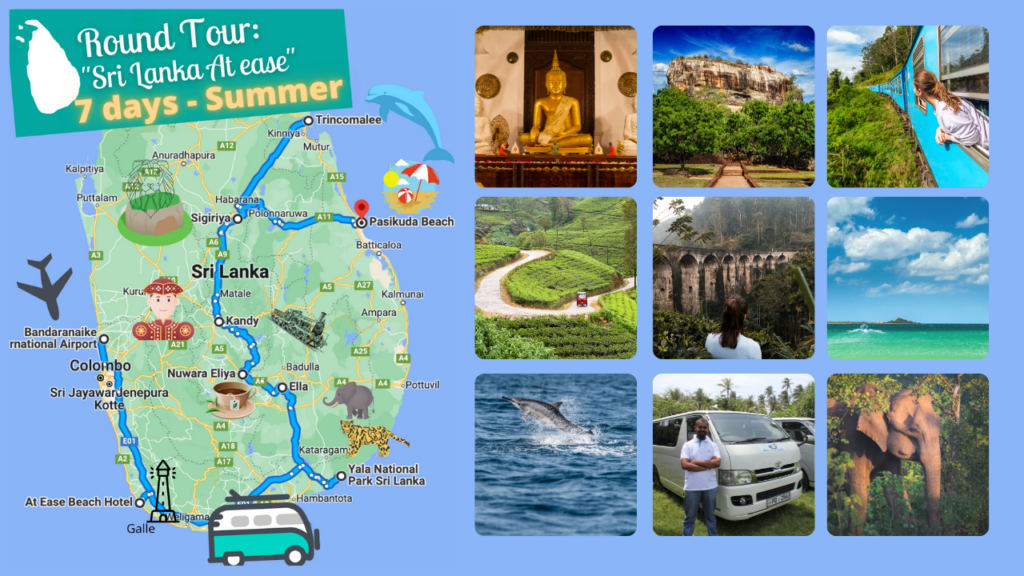 👉👉 Find the program, details and price of this 7 days tour HERE.
Sri Lankas best beach in the summer?
If palm beaches and swimming in the sea is key ingredients for your summer holiday in Sri Lanka, then head EAST after your round tour🌴🏖️☀️.
My two favourite places for relaxing by the beach this time of the year is Trincomalee & Pasikuda, and I will share some more information about these places now. (For surfing & the young backpacker vibe 👉 head over to Arugam Bay)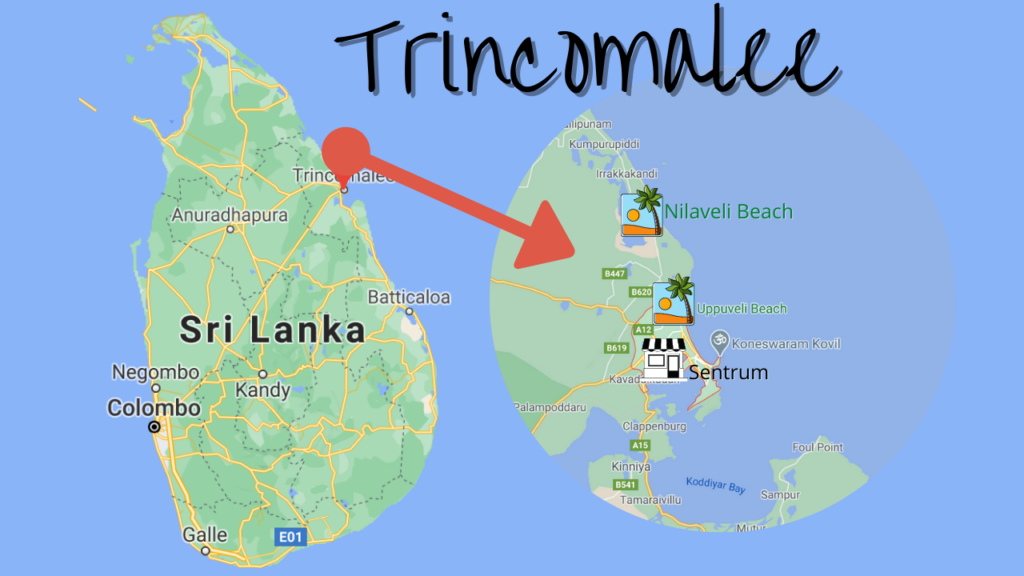 Trincomalee is in in the northern part of the East coast, about 5,5 hours drive from Colombo. In the centre of Trincomalee you find a busy town, a charming old fort, and a colourful hindu temple with stunning views.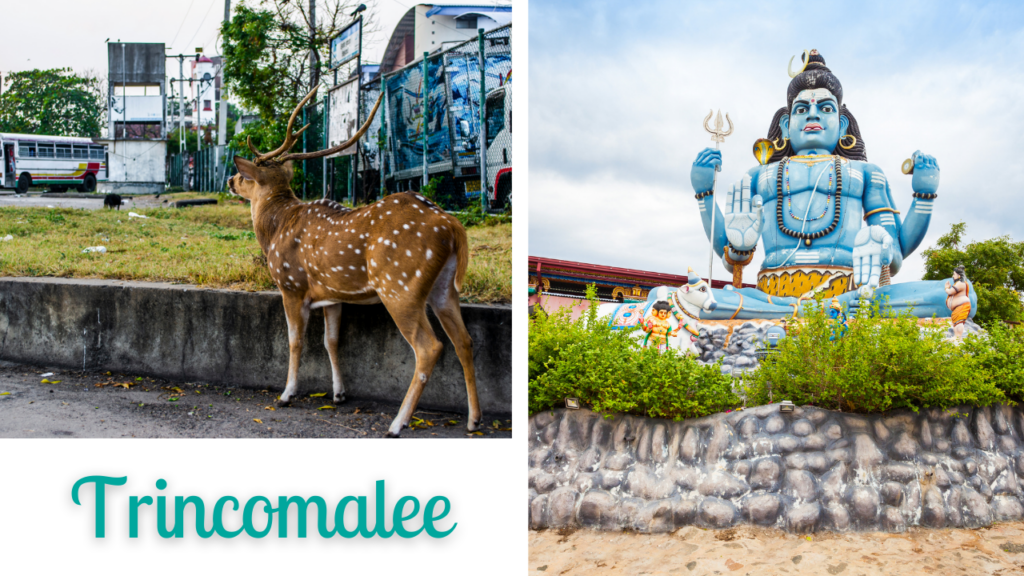 However when I talk about Trincomalee and beautiful beaches – I actually refer to the two beaches a bit north of town: Uppuveli & Nilaveli.
Uppuveli Beach is 3 km north of Trincomalee and is the most lively beach (Yet not at all crowded!) . You find a selection of hotels, restaurants and activities here, and it is safe and pleasant to swim here in the summer (June to September)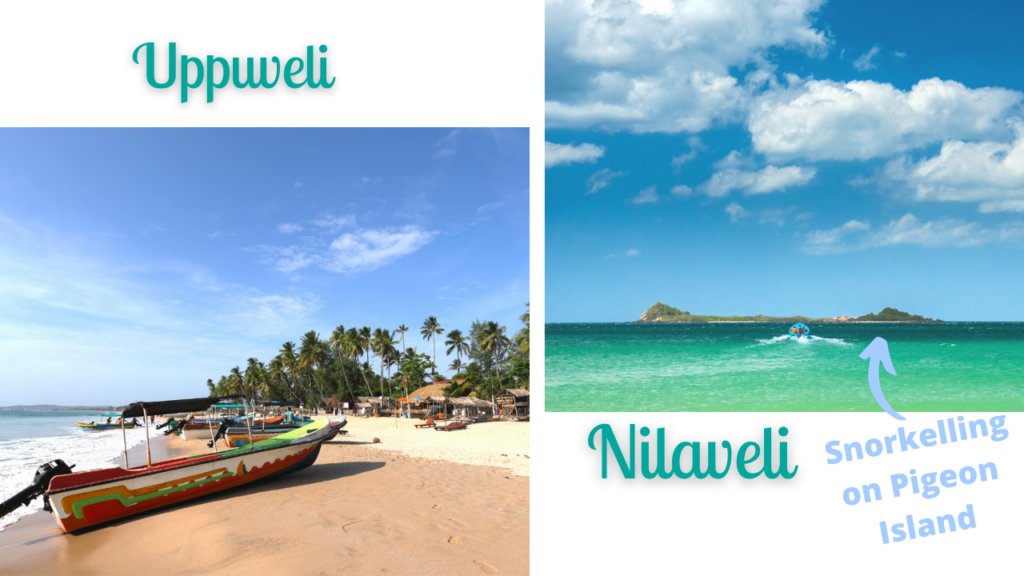 Nilaveli Beach is 12 km north of Trincomalee. This is a super long beach, with mainly larger hotels, and many of them "all inclusive". That means you will not find a lot of restaurant selections outside of your hotel.
Just outside the beach from Nilavali you find 🏝️Pigeon Island – a great place for snorkling 🤿 🐠. Boat rides out to the island is easy to arrange, and it´s a great day trip.
What to do in Trincomalee?
Fort Frederick er et tidligere nederlandsk fort, og er i dag en aktiv militærbase. Det er åpent for turister og besøkende og her kan du blant annet få med deg:
Diving & Snorkling: You find a selection of dive schools and amazing dive sites in this area.
Whale- and dolphin watching tours. 🐬 A highlight in the area, available from June to September.
Fort Frederick: A fort build during the dutch colonial time, and today also function as a military base.
Koneshwaram Temple: A beautiful, colourful hindu temple with amazing view over the harbour and beach.
Lovers Leap / Swami Rock: A viewpoint with it´s own Romeo & Juliet – story.
Kanniya Hot Springs:  An old well known from a hindu legend. It is a strange phenomena that it is 7 very different water temperatures in these wells.
A bit south from Trincomalee (still on the East coast) you find another beautiful area: Pasikudah: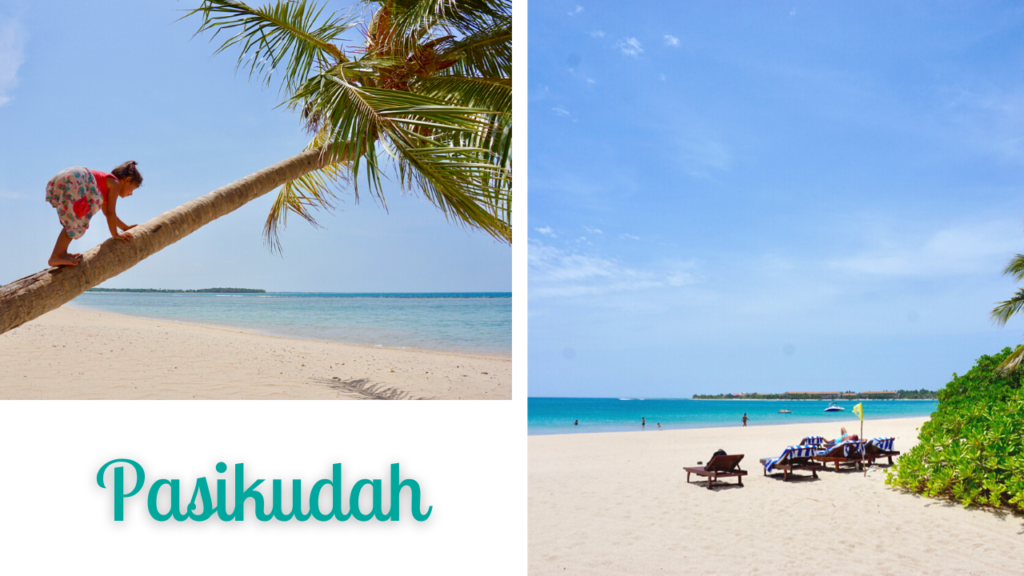 In my opinion this is the perfect location for a Summer Honeymoon in Sri Lanka💖 It is really quiet here, and many large super luxury hotels. It´s a kind of place where you first of all just want to relax at the hotel or on the beach – read, sleep, eat, and repeat😍
Of course I do not recommend going all the way to Sri Lanka only to sleep and relax😆 But combined with a round tour full of adventures -it´s the perfect match👍