Planning a trip to Sri Lanka in 2023? What a great idea!
Sri Lanka is an amazing destination, full of incredible sights and experiences. From its stunning beaches to its lush mountains, Jeep safaris to see elephants and leopards, learn to surf and eat loads of yummy spicy Rice and Curry. Sri Lanka has something for everyone.
If you are planning to visit Sri Lanka in 2013, then this is the updated ultimate travel tips:
1: The best time to visit Sri Lanka:
Decide when you want to visit. Sri Lanka has two distinct monsoon seasons, and the best time to visit really depends on what kind of experience you are looking for.
The most popular time to visit for most people is during winter, from December to April. This is the best season in the south and west where you find the best beaches.
And for most Europeans – this is definitely the best time to escape the cold winters at home.😉
For families: the summer holidays might be a better time, and you can get amazing beach holiday on the east coast between june and august.
2: Explore ALL of Sri Lanka!
Do not travel to Sri Lanka ONLY to stay at a beach resort. PLEASE😂 Sri Lanka is an amazing destination, full of incredible sights and experiences. Yes, the beaches are stunning – so you should off course try to stay near the sea for parts of your holiday. However also travel up to the lush mountains, tea plantations, waterfalls,
Go on a Jeep safaris to see elephants and leopards, Sri Lanka has something for everyone.
3: Spend minimum 2 weeks in Sri Lanka.
There are just too many sights and activities to cover in less time.
With a minimum of 2 weeks — you can spend 1 week to relax, swim, surf or dive by one of the many lovely beaches —- and then 1 week to travel around to the different areas and sights.
** Of course more weeks is a bonus – when you can really start to explore more off the beaten track.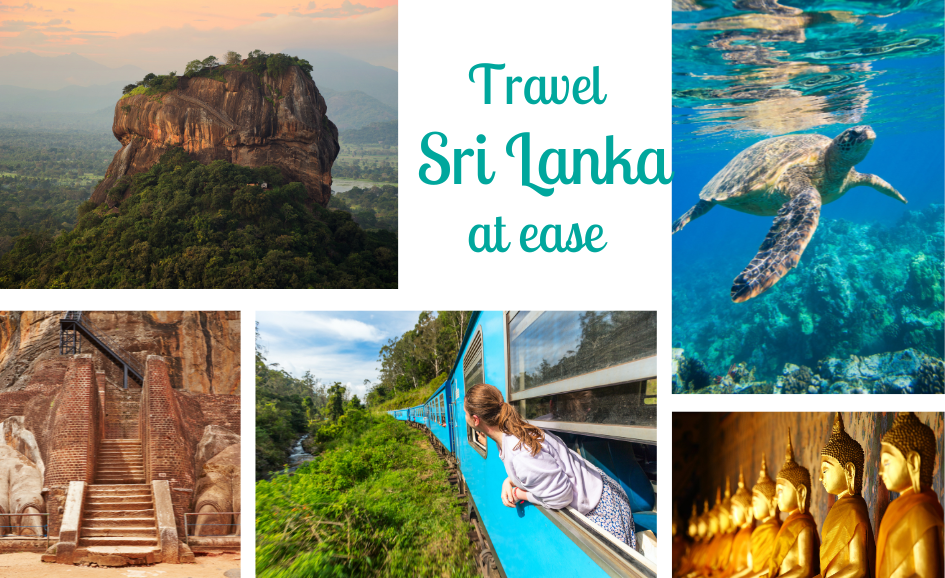 4: Take a round tour with a private driver.
This is the absolutely most comfortable and time-effective way of travelling in Sri Lanka!! It is also quite reasonable (compared to Europe)
We are offering many different round tours – private for you, your travel partner or family. 2 examples:
You can also hire a driver and explore the highlands and sights that are spread all over the country. Een though distances look short on a map, you will find that it takes TIME to get from A to B – and you don´t want to spend your entire holiday in the car.
5: Travel Sri Lanka by train or bus
If your budget or travel style make you want to try travelling by bus or train, just please be prepared that they are mostly far from comfortable, and it takes much longer time.
I myself like to travel by train sometimes, especially up in the beautiful hill country — but then I make sure to not bring much luggage. (If you travel with your own driver — he will bring your main luggage in the car and meet you up again at the train station of your destination)
6: Eat Rice and Curry!
When travelling – always aim to try as much local food as possible. In Sri Lanka that is first and foremost RICE AND CURRY. Yummy spice curry pots with ingredients like coconut milk, a variety of spices and different vegetables, dahl, fish or sometimes meat.
Also try the different short eats, rottis, kothu and other local street food that you see for sale.
Most tourists have never heard about Sri Lankan food before they arrive – and they will never forget about it after they left. It´s amazing!
7: Cash is (still) king in Sri Lanka
Please note, that card is not accepted for payment everywhere!
You can always pay with the local Rupees. Bring your visa card and withdraw money from an ATM. And by the way, ATM´s are everywhere around in cities, towns and all main tourist areas.
There is also smart to bring as much USD/ or EURO as you can, as you can change them in Sri Lanka at really good exchange rates. You can also pay by dollars in cash in most tourist hotels.
In Colombo it is more common to accept card payments, but if you travel around to smaller places, small shops and restaurant and smaller hotels you will find that they only accept cash payment.
8: About safety – and the situation in Sri Lanka
There is still a financial crizez in the coutry, it is still a big problem with corruption in Sri Lanka and it is still daily powercuts. Meaning life is touch for many Sri Lankans.
For tourists on the other hand – you can have a 100% safe and pleasant holiday by staying at hotels with a generator.
And you will feel more welcome than ever!
Of course – follow normal safety precautions – have a valid travel insurance and show respect to challenges in Sri Lanka as a developing country. 👉 Read more about travel and safety HERE.
Tip 9: Updated visa rules.
👉👉 Read more about visa to Sri Lanka HERE.
Tips 10: Updated Entry rules.
👉👉 Read more about entry rules to Sri Lanka HERE.
Have a wonderful time in Sri Lanka!