We have a renovated hotel with fresh paint, a larger sun deck area and some new design and decorations. The restaurant and bar have new menus, with a great selection of Sri Lankan and western food and drinks. We are proud to present a beach restaurant with higher quality than ever before.
Several new faces joined the At Ease-family as well, you will see their smiling faces in the Front Desk and in the restaurant. We are really looking forward to the upcoming season. In fact, we are super-excited!
Six uneasy months.
The past six months have not been easy at all! A lot of cancellations followed the Easter Sunday bombings. Or more precisely, followed the travel warnings issued from a lot of countries. It was frustrating representing the tourism industry, and witness our location being as safe as (or safer than) ever, but not having the trust from the outside world.
And just when things started to pick up a bit again in the summer, Hikkaduwa was hit by a storm. For several days and nights, big waves made big damages to our sun deck area, stairs and beach entry. There were times we actually feared our whole dream and future were lost…
Luckily the weather calmed down again, and we could start to repair and rebuild.
Again, we were faced by cancellations.
We worked hard to try to make the situation as good as possible for ours guests that had their beach holiday planned. Some chose to find another hotel (which of course we understand given the situation). However quite a few decided to stay at our hotel through the summer months.
There were really good times as well in between all this. We met so many extraordinary guests, that were happy and enjoyed their stay even through the reconstruction-work that followed. Smiling faces is the best medicine in difficult times.
When faced by natural force as strong as this (it was the worst in 30 years according to the local fishermen) we were looking at different options on how to rebuild the sun deck safer than before. We signed a contract with a company and got tons of stone connected with wires. Now, there is a safety wall several metres under the sandy surface, to protect us from sand erosion. Let´s hope we don´t see a storm like this again! But if we do, we should be safe anyway. That feels good!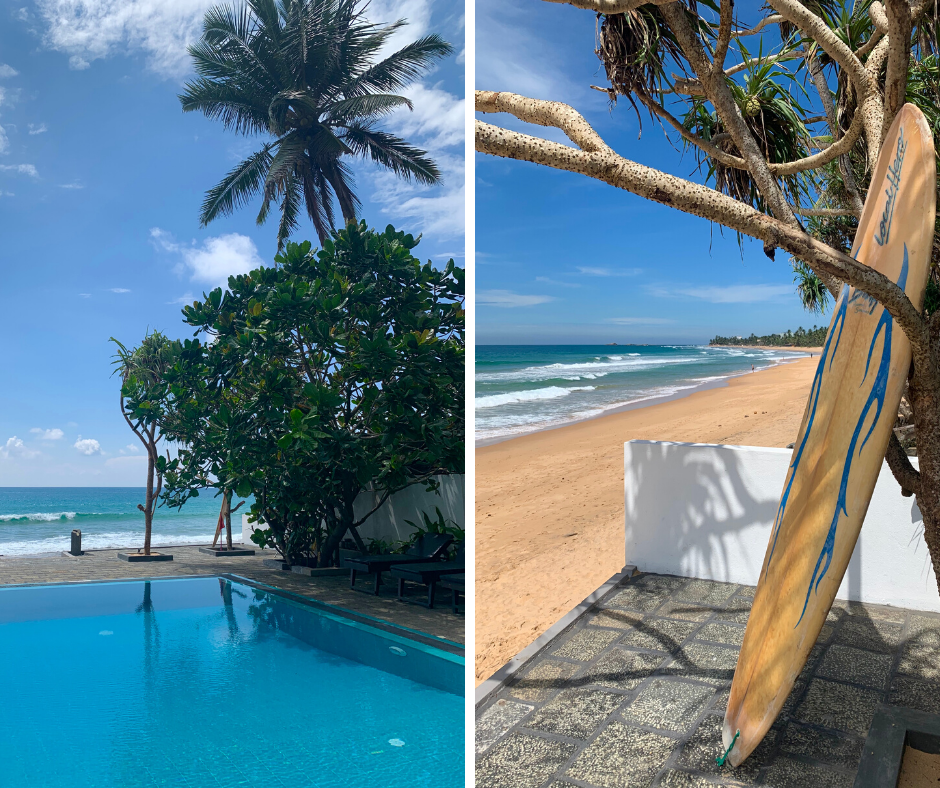 We are looking forward to the upcoming season.
This is the short version of what has been happening here in Hikkaduwa the past six month. Now it´s time to look forward.
We have simply decided that the next six months are going to be super!
Sunny days and smiling faces!
Returning guests will see that we work hard to improve, yet never forget what our main target is:
A place with friendly service, where you can feel at ease.
And for new visitors,
Dinesh, Merete
and the rest of the team
– At Ease Beach Hotel