We have been open around 8 months now, and one thing we quickly realized: It takes a lot of maintenance for a beach hotel in Sri Lanka!
💪It´s hard work to keep the place looking good, and to prevent corrosion from the salty sea water.
Painting, cleaning and new storage space.
Ease Beach Hotel is located directly on the beach. That means sea breeze, salt water and wind. Lovely for our guests, BUT a problem for the interior and exterior of the hotel. Before opening the beach hotel, I believed that Stainless Steel meant no chance of corrosion! But know I learned the hard way…
In May we closed the hotel for a month. We have redone the ground floor (concrete) and polished all the floors. All the walls have got a new layer of paint, and broken switches, handles etc have been replaced. The front of the hotel also got a big makeover with a new storage room outside the kitchen, where we will put the generator. Sri Lanka is known for repetitive power cuts, so we can not depend on the local electricity board.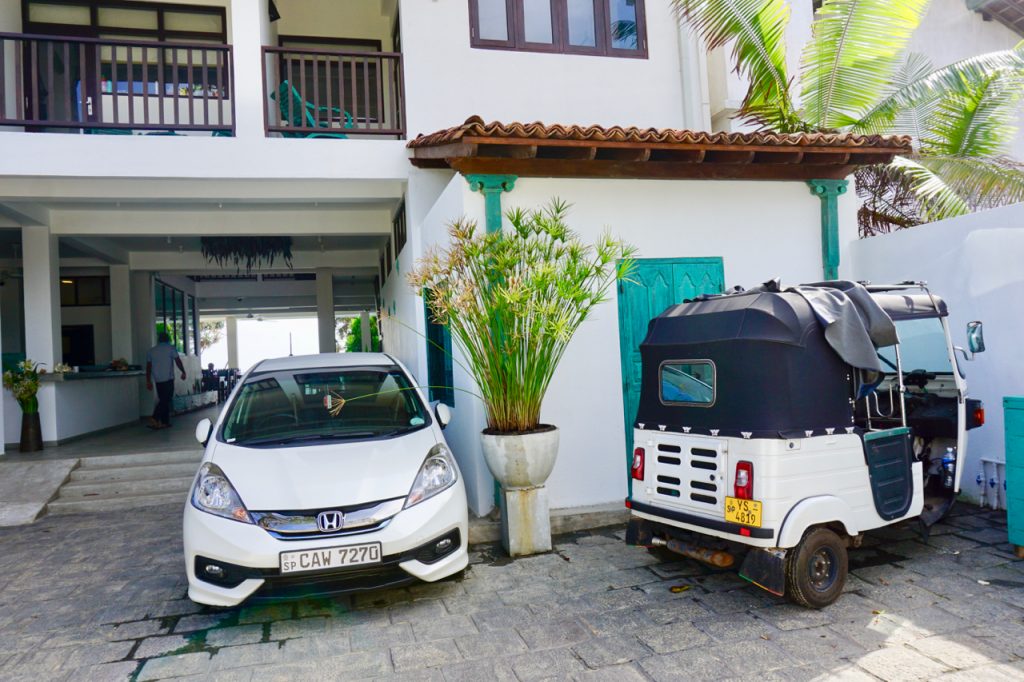 New Art and Decoration
In addition to general maintenance, we also got some new art and decorations. As always the boys in Saffron Robes are the artists. They are simply the best. Make sure you check out their gallery in Hikkaduwa when you visit!
Three large paintings in the top floor and a few other smaller paintings are their work. And check out the super cool new ceiling art close to the front desk! Hard to take a good photo of it, but it will be the first thing you notice after arriving to our hotel.
The third project is something we started before opening in October, on finally got the time to finish. An idea from Merete (plus Pinteres Dinesh and Ushan made it a reality. Super cool Wine bottle lamps over the bar! Reuse at is best!
In April the beach changed!
This happens every year. In the end of the high season (around April-Mai) the beach here in Hikkaduwa gets smaller and smaller. The sand is washed into the sea. Then again a few months later, the sand starts building up again. Creating a wider beach. Usually this happens gradually, slowly day by day.
This year was different. From one day we had the longest beach and all our sun beds out. Then came some strong wind and a warning weather report on the radio. 24 hours laterm almost all of our beach was gone! We saved all the furnitures, bur lost our fishing boat (decoration on the beach). The strong wind stopped after a couple of days, and things are now again returning to normal.
Waves are still big, so there is not recommended to swim in the sea here in Hikkaduwa at the moment.
The good news: Blue sky, sunny warm weather and our swimming pool is 100% safe!
Sunny breeze in June!